AP interviews VUFO President
(Vietpeace)-The Atlantic Philanthropies (AP) and Redbridge Vietnam had an interview with Mr. Vu Xuan Hong, President of Vietnam Union of Friendship Organizations (VUFO) at VUFO's head quarters on August 13th.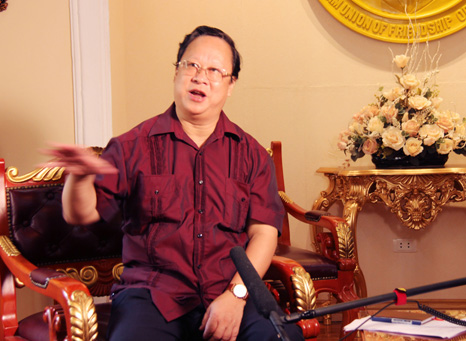 The topic of the interview was "Viewpoint of VUFO President as a policy maker  about AP's contributions to Vietnam".
Vietnam acknowledged big contributions of foreign individuals and organisations to its development and international integration, said President Hong.
He highly appreciated AP's contributions to Vietnam, and hoped that Vietnam would continue to receive more supports from international friends in humanitarian field.
AP started  its operation inVietnam in 2001,  focusing on healthcare and education. So far, the total aid value from AP to Vietnam is about 300 million USD, making AP the largest in funds disbursement in Vietnam. Along with the projects on improving primary health care and health workers' capacity, its supports for Agent Orange victims has brought practical results in alleviating the pain due to the war.
Answering the question "How did Vietnam, a small country, win over strong enemies?", President Hong affirmed that the key element is the solidarity among Vietnamese people and with peoples all over the world. Vietnamese tradition has proved that solidarity is a must to gain national power.
Vietnamese people have been enjoying helps and supports from international friends both during the war and in peace time.
Peace is a driving force for a country's development. Only when living in peace, do people thoroughly understand the full meaning of peace to a nation.
This interview will be used to make a documentary film on AP's operations in Vietnam, AP said.

Thanh My