ASEAN-China cooperation important to regional peace, stability: defence minister
Minister of National Defence Sen. Lieut. Gen. Phan Van Giang highlighted the importance of the ASEAN – China cooperation to peace and stability in the region while addressing the ASEAN – China Defence Ministers' Informal Meeting held virtually on June 15.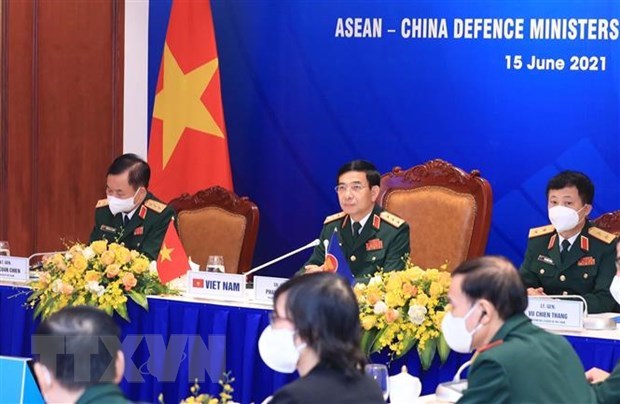 Minister of National Defence Sen. Lieut. Gen. Phan Van Giang at the meeting (Photo: VNA)
He spoke highly of China's role and the ASEAN-China defence-security engagements in the past time, particularly within the frameworks of the ASEAN Defence Ministers Meeting Plus (ADMM-Plus) and the ASEAN Regional Forum (ARF).

Giang said he supports China's proposals on organising exchanges between young officers and defence research institutes of the sides for increased mutual understanding and trust. The official also backed the establishment of a hotline between defence ministers of ASEAN member states and China based on the ASEAN Direct Communications Infrastructure.
On the East Sea issue, Giang recommended the sides create favourable conditions for the negotiation on a Code of Conduct in the East Sea (COC) via trust building measures, refraining from actions that can further complicate the situation, and resolving disputes in a peaceful manner in line with international law, including the 1982 United Nations Convention on the Law of the Sea (UNCLOS).

Chaired by Second Defence Minister of Brunei Maj. Gen. Pehin Datu Lailaraja Dato Paduka Seri Haji Awang Halbi bin Haji Md Yussof and Chinese Minister of National Defence, Sen. Lt. Gen. Wei Fenghe, the meeting took place on the occasion of the bloc and China marking the 30th anniversary of their dialogue partnership.
Participants took the occasion to propose ideas for bilateral defence cooperation and exchanged views on regional and international situations./.
Q.Hoa t.h / TTXVN