Clearing Landmines, Bringing Smiles - Ly Hoang's Story
Mrs. Hoang Thi Hai Ly, 47, has been working as a technician for MAG in Quang Tri province since 2001. Before this, she lived at Charlie One hill, Gio Linh district, Quang Tri province, which was home to an American Military Base during the war.
She lived in a small single room house with her one year old child, a sick husband, her father, and her brother's family when MAG started clearance in the area in July 1999. It was the only house located in the area, which was surrounded by thousands of mines and cluster-munitions. 
"There was lots of land around the house but nobody could use it because of the landmines and unexploded ordnance left over from the war.  The local authorities would not allocate us any land, we were desperate, so we had to plant crops very close to the minefield even though we knew it was dangerous"
.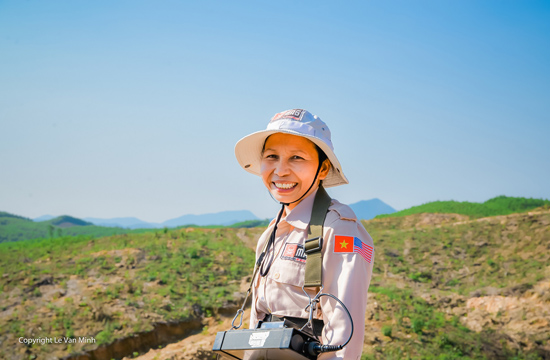 Mrs. Hoang Thi Hai Ly
Life was so difficult that Ly's family had to risk their lives to survive. She said:
"There were many accidents at that time; I remember there was one very close to our house which occurred whilst some people were planting trees. One person died and I was so scared because I thought the explosion was caused by someone from my family".
It took MAG nearly 3 years to complete the clearance of 1,264,074m
2
of heavily contaminated land at Charlie One, removing and destroying 8,384 items of UXOs and 2,019 landmines. MAG found one M16 anti-personnel mine right behind Ly's house, a number of M14 anti-personnel mines in the front, and a big line of bombies about 70m away from the house.  After clearance, MAG also cooperated with local authorities and Plan International to help with the construction of a kindergarten, a community house and resettlement houses for 78 families moving to live in the area.
Mark Thompson, the first MAG's international Technical Advisor to Vietnam visited Ly's house on the first day of operation in the area. She recalled:
"He asked me whether I wanted to work for MAG. I was very grateful to him. Before I worked for MAG, my family's situation was very difficult.  Since I worked for MAG, I've seen a remarkable improvement. I have a stable job, my children have had the opportunity for a better education and a better future".
During 16 years working for MAG as a technician, her impressive performance has always been highly appreciated. Le Van Tra, MAG's Technical Quality Management Officer remarked:
"Mrs. Ly is like our sister. She is hard working, dedicated, careful and always fulfils her assigned tasks. I never have any complaints about her job".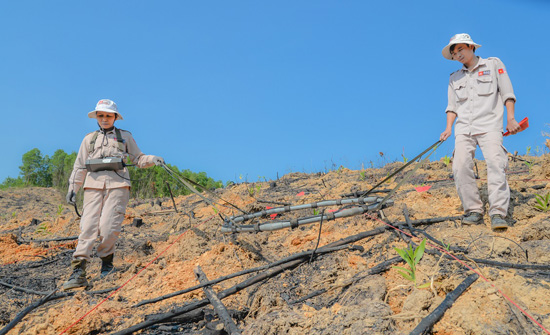 Ly and her colleague work on a clearance site
Since working in MAG, Mrs. Ly has been able to widen the house into a five-room house, she has two more children and all her three children go to school.
"I would like to thank MAG for helping me improve my life and send my children to school"
she said. 
When MAG returned to visit Mrs. Ly's family and the area, things have changed a lot: more houses, more people, more laughs, more animals and more trees. There's happiness in her voice and her eyes look to the green eucalyptus crop for next year:
"We feel very confident to farm, planting eucalyptus and acacia aneura is one of the main income of people in this area"
, Mrs. Ly adds:
"MAG has helped to rebuild the village"
.
MAG