Da Nang Gathers Experiences in Smart City Building
An international workshop to gather experiences from some countries in western and northern Europe in smart city building.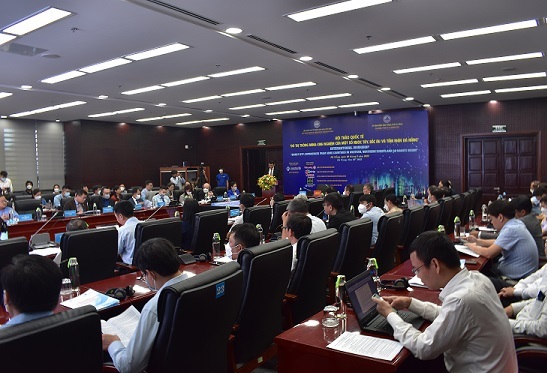 At the hybrid seminar. Photo: Hanh Tran
The Vietnam Union of Friendship Organisations (VUFO) in partner with the Da Nang People's Committee, on May 20 organised an international seminar themed 'Smart cities: Experiences of some Western and Nordic countries, and Da Nang's vision' in the city, reported Da Nang Today.The event was co-chaired by VUFO President Nguyen Phuong Nga and Standing Vice Chairman of the Da Nang People's Committee Ho Ky Minh.
It saw the participation of representatives from embassies and consulates general of a number of European countries, plus leaders of trade associations and foreign enterprises, and experts and researchers in the field of smart cities.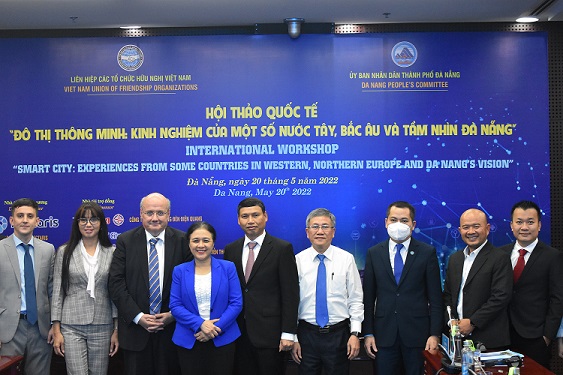 In her remarks, VUFO President Nguyen Phuong Nga underlined the importance of the seminar in deploying Politburo's Resolution No. 06-NQ/TW regarding the planning, construction, management and sustainable development of urban areas in Viet Nam to 2030 with a vision to 2045.
The seminar focused on introducing a number of remarkable achievements in building and managing smart cities that have been gained by Western and Northern European countries so that Da Nang could learn from that experience and apply it in accordance with reality, added Nga.
Nga emphasised that the central economic hub boasts infrastructure, services and management levels that meet for smart city levels.
Local authorities and people are also determined to press ahead with the process, she noted.
Presentations on smart infrastructure and management by speakers from Austria, the Netherlands and Ireland, among others, were tabled.The seminar featured a plenary session and two thematic sessions.During the plenary session, the event's organisers provided attendees with Vietnam's policies for smart city development and Da Nang's plans to accelerate the local process.
At the second session on "Smart city infrastructure", the speakers introduced practical models and shared experiences in European countries. The presentations included Experience, practical model of Smart Traffic in Austria by Austrian Ambassador to Vietnam Hans-Peter Glanzer; Smart City: Experience from the UK by Do Cong Nguyen, advisor to the British Consulate General in Ho Chi Minh City; Experience and solutions to provide clean water for smart cities by Bakhtiyar Sharipov, director of Nectaris Company Limited in Vietnam.
The third session with the theme "Smart urban governance" includes topics: Practical experience in building smart cities in the Netherlands by Netherlands Consul General in Ho Chi Minh City Daniel Coenraad Stork; Experience and solutions to reduce traffic congestion and environmental pollution in smart cities by representative of Ireland Trade Office in Vietnam and Zeus Company Limited - Irish Enterprise; and Experience, smart urban lighting solutions by Dien Quang Light Bulb Joint Stock Company.
Concluding the event, Ho Ky Minh, vice chairman of the municipal People's Committee, appreciated the honest, insightful and open sharing and suggestions of the speakers for the city, adding that Da Nang will take into account and the study models and solutions presented.
The official affirmed that the city hopes embassies of western and northern European countries will call on businesses and investors to visit Da Nang and help local firms to expand their markets and bring Vietnam's digital solutions overseas.
Q.Hoa t.h / Vietnam Times