Delegates attending the People-to-people Diplomacy Seminar in Dak Lak visit Son Ca preschool
VUFO - Within the framework of the Seminar on People-to-people Diplomacy for the southern provinces in Dak Lak from 2-3/10, Ambassador Nguyen Phuong Nga, Chairman of the Vietnam Union of Friendship Organizations (VUFO) and representatives of VUFOs in southern provinces, visited Son Ca preschool, a typical project sponsored by the Costa/UK organization.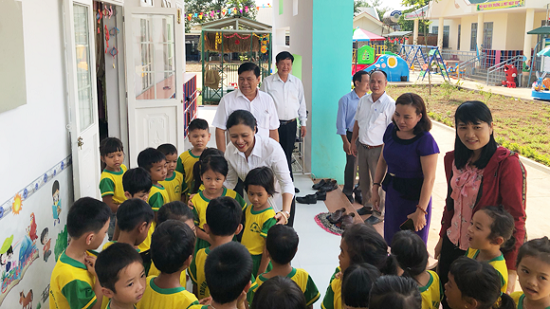 Son Ca preschool was built with a total investment of 6.8 billion VND, including 11 new classrooms, 1 kitchen, functional rooms, learning tools and playground for children.
The project was run in August 2019 and has helped the locality take care of all children in the region.
Currently, Son Ca preschool welcomes about 500 children aged 2-5 years old. This project has helped the people of Buon Don, one of the poorest villages in Dak Lak, to have a standard preschool for children.
Ambassador Nguyen Phuong Nga appreciates the school's efforts in encouraging children, as well as local counterpart in matching fund with Costa organization.
Ambassador Nguyen Phuong Nga hopes that with well-equipped facilities, spacious classrooms, excellent facilities, professional teachers, a large and safe playground for children, the school will promote comprehensive educational development in the region.
KT.