Fostering friendship between Viet Nam and Laos
Cultivating affection for generations of Lao students and students studying in Hue is how veterans and volunteer army members educate the two countries' young generations and future generations to maintain and promote "the great friendship, special solidarity, and comprehensive cooperation between Viet Nam and Laos."
Meaningful activities:
Despite the fact that many rows of tables remained vacant, the hall of the Vinh Thanh Commune People's Committee (Phu Vang) was filled with a bustling atmosphere. Because the union members and young people of Phu Vang District Youth Union, especially the veterans and volunteers who are members of the province's Liaison Committee of the Viet Nam - Laos Volunteer Army, are waiting for Lao students and students studying in Thua Thien Hue to attend meeting respectfully organized by the Phu Vang District Party Committee.
They are veterans who have served on international missions, spent memorable years in Laos, and are trusted, liked, and supported by the Lao people.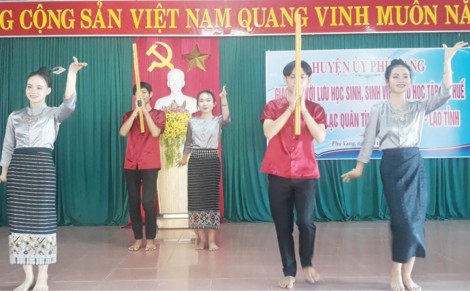 The ceremony's setting (Photo: Thua Thien Hue Online Newspaper)
Many Lao students have been adopted, sponsored, and supported by the families of liaison committee members over the years in the hope that through various activities, they will spread the flame, educate the young generations of both countries, and future generations will continue to maintain and promote the "great friendship, special solidarity, and comprehensive cooperation between Viet Nam and Laos."
"The meeting provided the children with a better understanding of the economic, social, national defence, and security condition, culture, feelings, and people of the Phu Vang homeland, while also connecting the youth of foreign students. Let's do something practical and meaningful together, Laos and the youth of Phu Vang." - Veteran, Colonel Nguyen Duc Thuan, deputy head of the provincial Viet Nam-Laos Volunteer Service Liaison Department expressed.
According to the Secretary of Vinh Thanh Commune Union, the commune is preparing a plan to submit to the Vinh Thanh Commune Party Committee the content, in collaboration with Lao students and international students, to implement a garbage canoe model along Vinh Thanh beach, protect and beautify the marine environment, as well as tighten the increasingly close feelings between the local youth and the Lao youth.
Mr Pathoumma Bounnao, Head of the Representative Committee of Lao International Students and Students, confided emotionally: "Come to Thua Thien Hue to study, even though far from home, away from family and relatives, but the Lao students and students always feel close, because of the friendly affection, dedicated care and help of the teachers, friends, and local people. The rustic and sincere devotion of adoptive parents - members of the Viet Nam - Laos Volunteers Liaison Committee - in particular, makes them feel at home."
Close-knit relationship
Major Truong Quang Long received many emotional phone conversations from his four adoptive children. Three persons studied at Hue University of Medicine and Pharmacy earned doctorates and master's degrees, returned to their birthplace, and served and built it. Simple queries and conversations about life, work, and familiarity are analogous to father and mother's guidance to their children.
The seventy-year-old veteran who performed missions in Laos said: "Now, the grandchildren and we still often contact and support each other." My wife was also a veteran. Soldiers' emotions are always simple but deeply responsible and affectionate. The letters "I miss my parents very much"... motivate us to continue patronage of children despite many surprises. The children miss their family, adoptive parents, instructors, friends, and school, indicating that we have created a lasting devotion so that future generations of Laos friends. They will adore Hue and be thankful for Viet Nam.
Colonel Nguyen Duc Thuan, stated that from 2016 until the present, approximately 500 Lao students and international students alternately study in colleges and universities in Hue.
The province's Viet Nam-Laos Friendship Association tasked the Volunteer Army Liaison Committee with sponsoring and assisting Lao students in order to maintain the particular solidarity relationship between Viet Nam and Laos.
Every year, the liaison committee collaborates closely with colleges and universities, as well as the Overseas Student Representative Board, to organize meetings and cultural exchanges with students on the occasion of traditional Bun Pi Mai (April 15); Lao National Day (2/12) and Viet Nam's Traditional New Year; and Viet Namese New Year. Not only that, but the liaison committee regards them as the children of a volunteer military family, creating excellent conditions for Lao students to study and truly comprehend Viet Namese customs, practices, food, and feelings. That is the "secret" to assisting students in effectively absorbing knowledge in the classroom.
Many international students from Laos are sponsored and assisted by volunteer military personnel. When they return home, they are chosen to work in the government, and are well-versed in economics, health, and other fields.
"The meaningful and effective activities and deeds demonstrate the good and loyal feelings between the two peoples, thereby enhancing traditional education for the young generation of students in Laos, leaving a good impression on the image of volunteer soldiers, people, and the Viet Namese people; demonstrating and tightening the loyal, sincere, and open relationship, contributing to the building of the special friendship between Viet Nam and Laos, which is increasingly fait accompli." - Colonel Nguyen Duc Thuan expressed.
Thanh Thúy