Industrial production up 4.82 percent in 2021
Vietnam's industrial production recorded an increase of 4.82 percent in added value compared to 2020, according to figures from the General Statistics Office (GSO).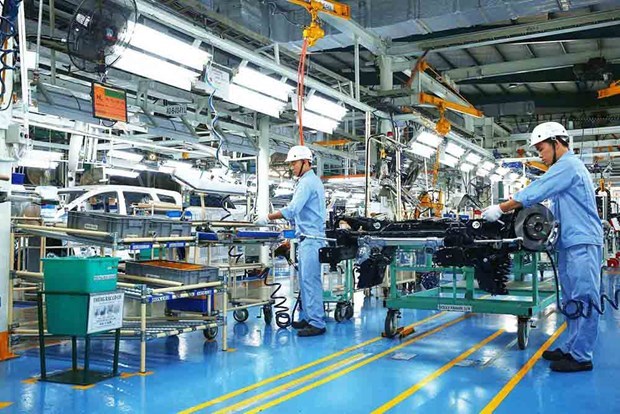 Industrial production up 4.82 percent in 2021 (Photo: VNA)
Notably, the processing and manufacturing field saw a rise of 6.37 percent in added value, contributing 1.61 percent to the overall growth of the economy.

The production index in 2021 of several key industries also surged against 2020, such as metal production up 22.1 percent; motor vehicle production 10.2 percent; electronic, computer, and optical products 9.6 percent; and hard and ion coal mining 9 percent.

Regarding FDI attraction in the year, the processing and manufacturing sector continued to lead with registered FDI capital totaling 7.25 billion USD, accounting for 47.6 percent of the total newly-registered capital.

According to the Ministry of Industry and Trade (MoIT), many businesses have quickly regained their growth momentum after the Government issued Resolution No. 128/NQ-CP on safely and flexibly adapting to and effectively controlling the pandemic. 

Economic experts said that the results achieved in 2021 create an important premise for industrial production to achieve strongger development, thus serving as a main contributor to the economic growth.
Q.Hoa t.h / TTXVN

The MoIT will continue to focus on removing difficulties facing important industrial projects, and maximizing its support for factories in maintaining and recovering their production.

The industry and trade sector will also effectively implement measures of the Government in order to help businesses recover financial and labour resources serving their production.

Attention will also be paid to speeding up industry restructuring in the direction of increasing the proportion of processing and manufacturing industries and reducing the proportion of contracting and assembling for industrial products manufactured in Vietnam, gradually removing difficulties for enterprises to increase competitiveness and step by step establishing technical barriers for imports to support and raise the local content of domestic products ./.