Peak of Vietnam's diplomatic victory
The Paris Agreement is the pinnacle of Vietnamese diplomacy during its anti-US war and a historical milestone in Vietnam 's revolutionary diplomacy.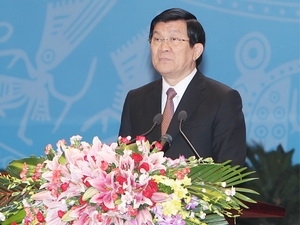 President Truong Tan Sang delivers the speech.
President Truong Tan Sang made the statement at a ceremony in Hanoi on January 25 to celebrate 40 years since the signing of the Paris Agreement to end the war and restore peace in Vietnam . Party General Secretary Nguyen Phu Trong, National Assembly Chairman Nguyen Sinh Hung, along with domestic and foreign guests that took part in the Paris Agreement negotiations, also attended the ceremony.
Sang stressed that lessons imparted from the Paris conference are invaluable for Vietnam to move towards international integration, deepening the friendship and cooperation between the country and partners, and increasing the country's position and power. He said the whole Party, armed forces and people remember the great contributions made by President Ho Chi Minh, who laid the foundations for Vietnamese revolutionary diplomacy, compatriots and soldiers, and members of the negotiation teams led by Xuan Thuy and Nguyen Thi Binh, who represented the Democratic Republic of Vietnam and the Provisional Revolutionary Government of the Republic of South Vietnam, respectively.
The leader also expressed his gratitude to advisor Le Duc Tho, socialist countries, and international friends - including US progressive people - that supported the Vietnamese in their fight for independence, freedom, peace and justice.
At the ceremony, Sang awarded the title of Hero of the People's Armed Forces to two negotiation delegations of the Government of the Democratic Republic of Vietnam and the Provisional Revolutionary Government of the Republic of South Vietnam in recognition of their contributions to the anti-US war.
Addressing the event, former Vice President Binh said that Vietnam would not have triumphed at the Paris conference and the 1975 Spring Great Victory if the US had not been defeated in Mau Than New Year Festival (1968), if Quang Tri province had not been liberated following the 81 days of fierce battles, and if Vietnam had not been victorious at the "Dien Bien Phu in the air" battle.
It would also not have been possible without great assistance from the North to the front in the South, or the support by millions of people all over the world, she said.
Honourary Senator Helene Luc, President of the France-Vietnam Friendship Association, affirmed that the Paris Agreement was a great encouragement for peace and justice lovers supporting Vietnam 's struggle for national liberation. The support from international friends, including French people, is part of the history of the struggle, and they will continue to stand side by side with the Vietnamese people in their national construction and defence.
The Paris Agreement was signed on January 27, 1973, successfully ending the longest and toughest fight in the history of Vietnam 's 20 th century diplomacy. It marks Vietnamese people's triumphant 19-year political, military and diplomatic fight against the US . The agreement unlocked overwhelming global support for Vietnam on the battlefield. It created a strong foundation for Vietnamese soldiers and people to press ahead, which culminated in the historic Ho Chi Minh campaign that liberated the south and reunified the country. Parallel with the fight at the negotiation tables, activities to make the most of global opinion sparked a global anti-US campaign that influenced US progressive opinion and promoted the growth of anti-war campaigns in the US.-VNA