Southern NGOs get informed and prepared for regional people's forum
(Vietpeace) An information sharing meeting on ASEAN and Vietnamese NGOs' participation in the ASEAN People's Forum (APF) was held on 20 April in Ho Chi Minh City, by the Vietnam Union of Friendship Organizations (VUFO), member of the Vietnamese National Coordinating Committee for APF 2016.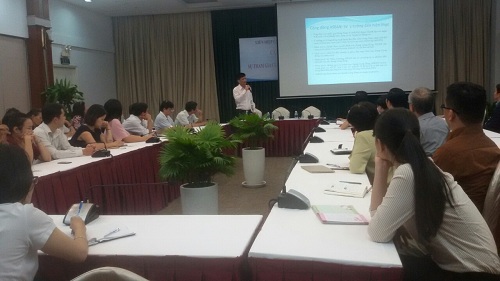 Present were representatives of Vietnamese people organizations, NGOs, community-based organizations (CBOs) and social networks from Vietnam's Southern provinces and cities working in such fields as women's rights, children's rights, climate change, natural resources, the environment, immigrants, and water resources.
The session provided participants with general information about the ASEAN Community, and the role of Vietnamese people organizations and NGOs in building a people-oriented community of solidarity, cooperation and development.
The event is part of  Vietnamese NGOs' preparation for the APF 2016, scheduled for 2-5 August 2016 in Dili, Timor Leste. A similar meeting reserved for organizations from Northern provinces and cities was held by VUFO on 28 March in Hanoi./.
Khanh Chi