The 20th ASCOJA Conference held in Hanoi
(Vietpeace) The 20th Conference of the ASEAN Council of Japan Alumni (ASCOJA) was held on September 7th in Hanoi. It was one of the significant events celebrating the 40th anniversary of the establishment of diplomatic relations between Vietnam and Japan.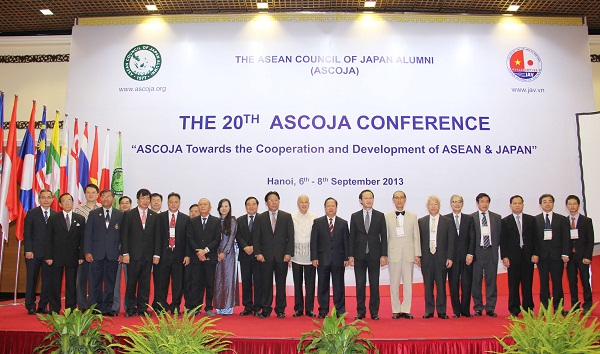 Attending the Opening Ceremony were Mr. Vu Xuan Hong, President of the Vietnam Union of Friendship Organizations; Mr. Nghiem Vu Khai, Deputy Minister of Science and Technology, Chairman of the Vietnam – Japan Friendship Association; Mr. Tran Quang Quy, Deputy Minister of Education and Training; Mr. Nguyen Ngoc Binh, Chairman of ASCOJA-20, Chairman of Japan Alumni of Vietnam (JAV); Mr. Hideo Suzuki, Deputy Chief of Mission of Japan Embassy in Hanoi; Mr. Benjamin C. Laurel, Chairman of the Philippine Federation of Japan Alumni; representatives of Embassies of ASEAN countries in Hanoi; and 250 foreign and 100 Vietnamese delegates.
The 20th ASCOJA Conference was held under the theme: "ASCOJA towards the Cooperation and Development of ASEAN and Japan".
The Conference received congratulatory letters from Vietnam Prime Minister Nguyen Tan Dung and Japan Prime Minister Shinzo Abe. In their letters, both Prime Ministers highly appreciated ASCOJA's role in promoting cultural exchange, cooperation and mutual understanding between the people of ASEAN countries and Japanese people.
At the Opening Ceremony, Mr. Nguyen Ngoc Binh, JAV Chairman, made brief introduction about ASCOJA and JAV.
ASCOJA was officially established on June 11th 1977 in Japan at the initiative of the Prime Minister Takeo Fukuda. Currently, ASCOJA has members from all 10 ASEAN countries. The ASCOJA Conference is held every two years, in the rotation of member countries.
JAV was set up in 2001 and became one of important members of the Vietnam – Japan Friendship Assocation. During the past two years, as Chairman of ASCOJA, JAV has made efforts to carry out various,  practical activities to consolidate the ties among ASCOJA members and relations with Japan as well. The hosting of the 20th ASCOJA Conference in Hanoi by JAV is to create opportunity for international friends to study about the country and people of Vietnam, and achievements in the course of renovation, to contribute to raising Vietnam's prestige in the region.
In his speech, VUFO President Vu Xuan Hong stressed: With the spirit "Vietnam is a friend and reliable partner of all nations, and a responsible member of the international community", Vietnam has strengthened and developed diplomatic ties with most countries in every part of the world. Vietnam attaches special importance to relations with neighboring countries and other countries in the region. Vietnam values the relationship with Japan and ASEAN countries, strive for prosperity of each country and the region. That the Japan Alumni Club of Vietnam, a member of the Vietnam – Japan Friendship Association, is honored to host the 20th Conference of ASCOJA serves as a good opportunity to strengthen ties of friendship and cooperation between Vietnam and Japan as well as all ASEAN countries. We hope that ASCOJA, its members and Japan Alumni of ASEAN countries will bring into full play the role of each individual in the promotion of exchanges, mutual understanding and multi-faceted cooperation between ASEAN countries with Japan as well as among ASEAN countries".
Mr. Hideo Suzuki, Deputy Chief of Mission of Japan Embassy in Hanoi congratulated Vietnam for hosting the 20th Conference of ASCOJA. He confirmed that the Conference is one of the important activities celebrating the 40th anniversary of the establishment of diplomatic relations between Vietnam and Japan and the 40th anniversary of ASEAN – Japan ralations.
He highlighted multi-faceted cooperation achievements between Vietnam and Japan in particular and between Japan and ASEAN countries in general. He hoped that ASCOJA members and delegates, through this Conference, would discuss concerned issues to promote cooperation in all fields among ASCOJA members, as well as between ASEAN countries and Japan.
The Conference approved the report on ASCOJA activities in 2012 – 2013 tenure and action plan of the 2013 – 2015 tenure. Besides, the delegates actively discussed various issues relating to diplomacy, education, food, science and technology...
The 20th ASCOJA Conference was held in Hanoi from 6th  - 8th  September 2013. The delegates participated in activities as sight-seeing, learning about Vietnamese culture and cultural exchange.
Minh AP