USAID Launches $14.2 Million Partnership with 3 Vietnamese Universities
The Partnership for Higher Education Reform (PHER), centers around four key programs —Governance Excellence, Teaching and Learning Excellence, Research Excellence, and University-Industry Linkages — and supports the three largest Vietnamese universities.
The United States, through US Agency for International Development (USAID), on July 1 launched a five-year, US$14.2 million partnership with three leading Vietnamese universities.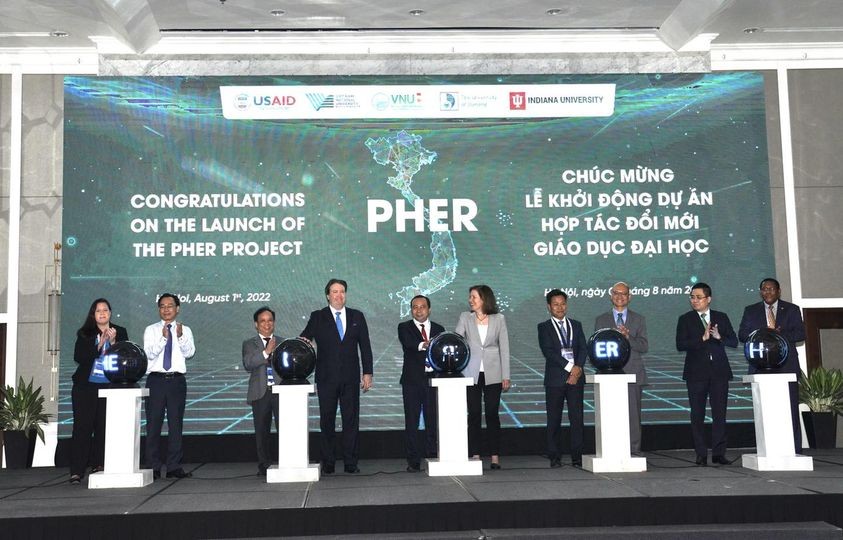 Partnership for Higher Education Reform (PHER) supports the three largest Vietnamese universities, with higher education policy advocacy and reform, technology and digitization, and gender empowerment as critical, cross-cutting tactics for success and long-term sustainability. Source: USAID
The Partnership for Higher Education Reform, announced by Vice President Kamala Harris last fall in Hanoi, will collaborate with universities, key government officials, and industry partners to strengthen higher education in Vietnam.
US partner Indiana University will work with Vietnam's three largest universities; Vietnam National University - Ho Chi Minh (VNU-HCM), Vietnam National University - Hanoi (VNU-HN), and the University of Da Nang (UD) to those universities and strengthen Vietnam's higher education system in alignment with USAID's Higher Education Program Framework.
The 2022-2026 partnership will drive socio-economic development by benefitting more than 200,000 students and equip them to thrive in an increasingly competitive global market.
"The United States is a committed partner in supporting the success and long-term sustainability of Vietnam's higher education institutions," said US Ambassador Marc Knapper during remarks delivered at the event. "Through this partnership, together, we will collectively improve the quality and market-relevance of higher education to drive lasting growth."
Vietnamese Deputy Minister of Education and Training Hoang Minh Son said training institutions are responsible for providing quality and inclusive education since the quality of human resources is one of the competitive factors of economies. Over the past years, Vietnam has been promoting the reform of education, including higher education, to generate the best values for learners and the community.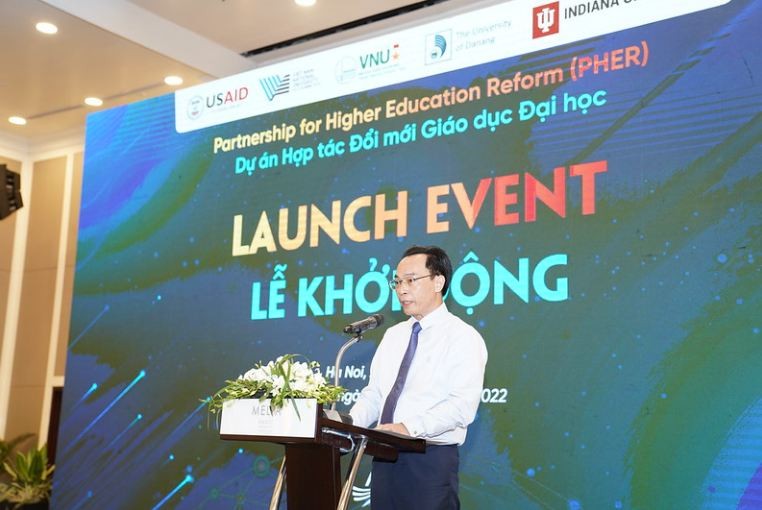 Hoang Minh Son, Deputy Minister of Education and Training speaks at the launching. Source: USAID
The partnership will work to achieve three objectives for the universities: increase sustainability and autonomy; improve academic quality; and strengthen research and innovation capacity.
Core activities will strengthen university governance and financial systems, provide faculty training in the design of state-of-the-art courses, facilitate research collaborations, expand research capacity, and develop guidelines and incentives for prosperous partnerships between universities and the private sector.
The Partnership for Higher Education Reform is the product of an extensive consultation process between USAID and the three largest Vietnamese universities, with numerous relevant entities such as the Ministry of Education and Training, the Ministry of Finance, the Ministry of Planning and Investment, the Ministry of Science and Technology, Indiana University, and the World Bank. Industry partners during implementation will include Purdue University, Amazon Web Services, the Vietnam Chamber of Commerce and Industry, among others.
The partnership helps advance higher education reforms that were called for under Vietnam's 2018 Revised Law on Higher Education.
Earlier, the US-funded Summer Conference 2022 opened in Hanoi on July 29 with the participation of more than 200 experts.
The Vietnam National University (VNU)-Hanoi organised the event as part of the PHER project.
The Hanoi-based Vietnam National University is one of the two leading multidisciplinary and multi-sectoral national universities in Vietnam, tasked with producing highly qualified human resources for the development of the country.
The Vietnam National University in HCM City was established in 1995 by the government to create a training center for undergraduate, postgraduate and science research, following high-quality and innovative multidisciplinary technology. It serves as the core of the higher education system and dedicates to the needs of socio-economic developments.
Established in 1994, the University of Danang (UD) is now the biggest university in Central Vietnam. UD consists 11 member universities and affiliated training units and is a multi-level, multi-disciplinary university with the main strengths in Engineering, Technology, Economics, Education and Foreign Languages.