VUFO's President welcomes Japanese Delegation
(Vietpeace) Mr. Vu Xuan Hong, President of the Vietnam Union of Friendship Organizations (VUFO) received the Japanese delegation headed by Mr. Koizuni Toshiaki, former Secretary-General of the Japan-Vietnam Friendship Parliamentary Alliance at VUFO's headquarters on June 7.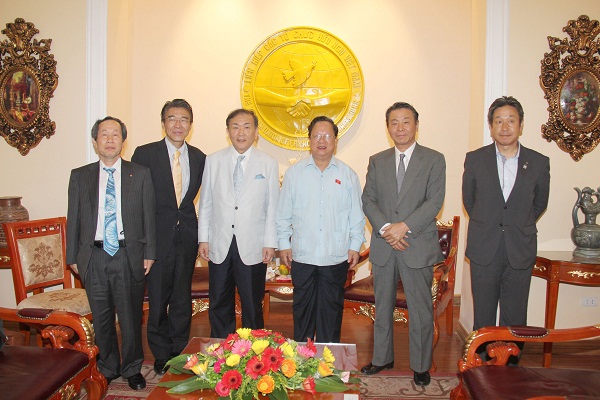 The other members of the delegation were Mr. Toyokuni Kakurai, Chairman of the Co-operative Alliance in Irabaki Province and Mr. Koki Kobayashi, former Minister of Finance and representatives  of Japanese businesses.

Mr. Koki Kobayashi said the aim of the delegation's visit is  making a research on  Vietnam's market, looking for investment and cooperation opportunities in the fields of construction, bridges and roads, vegetable and fruit import - export, and, transfer of Japan's advanced technology to Vietnam, especially in agricultural sector.

Earlier, the delegation had a meeting with the Vietnam Co-operative Alliance to discuss on human resource training in  agricultural sector for Vietnam,  in which about 3000 Vietnamese agricultural experts will be sent to Japan for training.

Mr. Toshiaki Koizumi added he  had had a meeting  with the Vietnamese Embassy in Japan about  the plan to send Japanese  vegetable and fruit import  export businesses  to Vietnam for market researching.

President Vu Xuan Hong acclaimed the visit to VUFO  and purposes of the delegation. He said that agricultural modernization is a top priority in Vietnam and  expected  that the Japanese friends continue to  help Vietnam in  agriculture not only in human resource training, but also in other fields  as plant seeds , processing technology ...  

The year of 2013 marks the 40th anniversary of establishment of diplomatic relations between Vietnam  and Japan, he added, and  a number of  meaningful activities celebrating this event will be held this year. Only in the field of people-to-people relations, he said,  there are about 40 celebrating activities, in which the remarkable one is the Vietnam – Japan People's Friendship Festival  in September 2013.  And he hoped  that  the friendship and cooperation relations between Vietnam and Japan, through these activities, will be even stronger and closer. /.  
Trần Đức Minh