Vietnam Peace Committee holds talks with Lao counterpart
Leaders of the Vietnam Peace Committee (VPC) held talks with a delegation of the Lao Committee for Peace and Solidarity (LCPS), headed by its President, Mr. Khamphan Simmalavong, in Hanoi on September 9.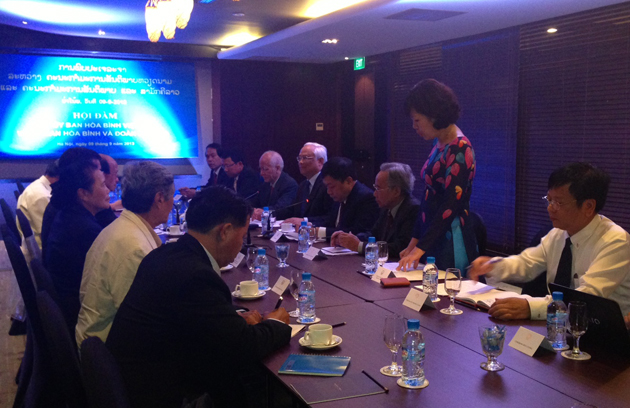 The talks were co-chaired by Mr. Uong Chu Luu, member of the Vietnam Communist Party Central Committee, Vice Chairman of the National Assembly and VPC President and Mr. Khamphan Simmalavong, LCPS President. Mr. Nguyen Van Huynh and Mr.  Pham Van Chuong, VPC Vice Presidents; Ms. Nguyen Thi Hoang Van, VUFO Secretary General; and representatives of VPC and LCPS were taking part.

During talks, VPC President Luu warmly welcomed the visit of LCPS's delegation to Vietnam, and expressed his delight at the outstanding achievements that Lao people have gained under the leadership of the Lao People's Revolutionary Party.

Mr Luu also congratulated LCPS and other Lao people's organizations on successfully organizing the Asia-Europe People's Forum, and spoke highly of the positive results of the cooperation between the two Peace Committees.

The VPC and LSPS, he said, have made great contributions to enhancing the traditional friendship, special solidarity and multifaceted cooperation between Vietnam and Laos.
He expected that the two committees will further strengthen coordination, exchange information and experiences, and support each other in order to effectively implement the two countries' foreign policies as well as agreements between the two parties and states.

For his part, LCPS President Khamphan Simmalavong sincerely thanked President Uong Chu Luu and VPC for welcoming the delegation, and affirmed that his committee will work closely with VPC in effectively implementing the agreements.

Mr. Khamphan Simmalavong hoped that Vietnam and Laos will enhance exchange activities and cooperation between the two countries' young generations, and suggested Vietnam will continue supporting Laos in training young cardes.

Both sides agreed to deepen their cooperation by maintaining exchange of high level delegations, sharing experiences in organising activities of people's organizations and NGOs in each nation, supporting each other in multilateral forums and working closely together to deal with the impacts of climate change, exploiting and reasonably utilising resources of the Mekong River.

The Lao Committee for Peace and Solidarity (LCPS) was founded after 1975, is a member of the World Peace Council (WPC) and the Asia- Africa People Solidarity Organization. LCPS has close co-operation with peace organizations and movements in many countries over the world.

Since its establishment, the cooporation between LCPS and VPC has incessantly been consolidated and developed. In recent years, the two committees have maintained exchange of high level delegations and of information. They have also collaborated in international forums and enhanced bilateral cooperation./.