Vietnam-Spain cultural exchange through the World Tapas Day event in Hanoi
On Saturday's evening June 20, 2020, on the occasion of the World Tapa Day of June 18, 2020, the Embassy of Spain in Hanoi and the Vietnam-Spain Friendship Association held the Cultural & Culinary event named: "iEspana, te quiero" (Spain, I love you) at Chula Fashion's headquarters at 43 Nhat Chieu, Tay Ho, Hanoi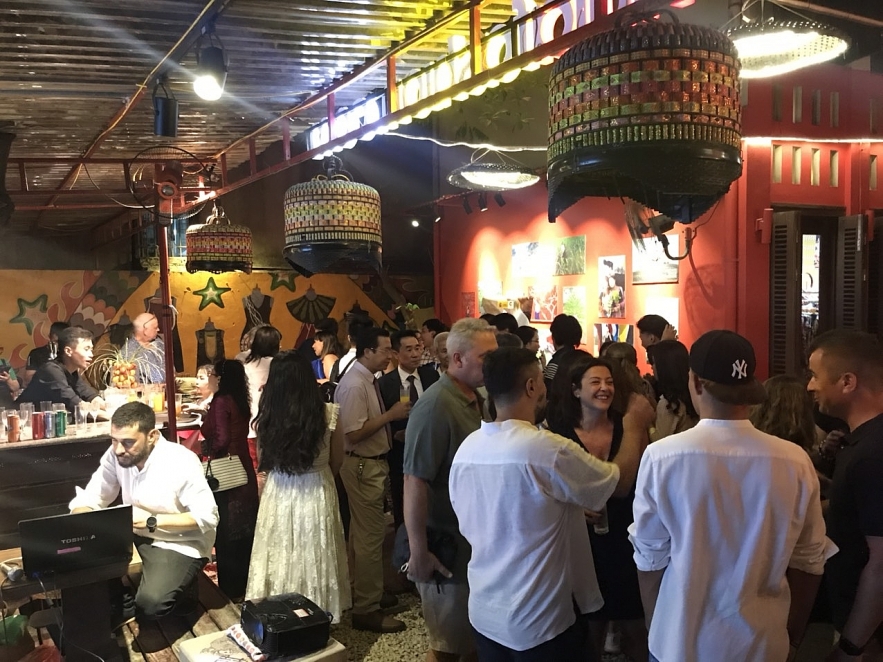 Vietnamese-and-Spanish-came-to-share-and-make-friends-at-the-event-tasted-Spanish-specialties-and-enjoyed-the-colorful-space-of-Spanish-Vietnamese-fashion. 
In the context that Spain has passed the peak of the epidemic and step by step to control the epidemic and entered the recovery phase after the Covid-19 pandemic outbreak, along with in Vietnam, economic and social activities have been reopened and normal again, on Saturday's  evening June 20, 2020, on the occasion of the World Tapa Day of June 18, 2020, the Embassy of Spain in Hanoi and the Vietnam-Spain Friendship Association together held the  Cultural & Culinary Event named: "iEspana, te quiero" (Spain, I love you) at the headquarters of Spanish Chula Fashion brand at 43 Nhat Chieu, Tay Ho , Hanoi.
The Embassy of Spain in Hanoi chose to organize the event at the headquarters of the Spanish-Vietnamese fashion style brand named Chula (Spanish for unique beauty) to create opportunities for partners, friends, colleagues, Spanish culture-lovers interesting in Spain, especially Spanish culinary  and culture to experience the flavors and colors of the Mediterranean nation. In the event, there are activities such as: a Spanish-Vietnamese fashion enjoying, tasting and awarding of Spanish cooking with Tapas and a mini fashion show of a combination of Vietnam and Spain's fashion styles, and guests' exchanging and sharing...
At the opening ceremony, Ambassador Extraordinary and Plenipotentiary of Spain to Vietnam, Mª Jesús Figa López-Palop, expressed her joy and happiness when the Embassy of Spain cooperated with the Spanish Chula Fashion in Hanoi as well as the presence of representatives of Vietnam-Spain Friendship Association successfully organized this event in the context that both countries are working together to overcome current difficulties. Nowadays, Tapas is well-known as a special dish in Spain, and it is chosen on June 18 every year as the World Tapas Day to promote the image of Spain's country, people and culture. Tapas, as a kind of snack, simply consists of cold meat with bread but is increasingly being developed into a special dish associated with the Spanish people and becomes an important part of Spanish culture.
When talking with the Thoi Dai magazine, the Ambassador shared that she felt very lucky and happy to work in Vietnam. With Vietnam's outstanding achievements in controlling epidemics and normalizing economic and social activities, she believes that Vietnam and Spain will overcome the difficult time soon and support each other much. This event opened up opportunities of cooperation, exchanging and sharing for Vietnamese people to understand Spain more as well as vice versa.
The Vietnam - Spain Friendship Association's representative,Vice President of Vietnam - Spain Friendship Association and Deputy President - General Secretary of the Red Cross under Vietnam - Spain Friendship Association Nguyen Hai Anh presented at the event and shared her joy and honor when participating in this World Tapas Day event. He said that this event was a good opportunity for Vietnamese and Spanish to talk and get to know better about each other, for Vietnamese friends to understand more about the unique and very intersting culture of a beautiful Mediterranean country, and so sense the gastronomic diversity of Spain. Mr. Hai Anh emphasized that in 2020, although a pandemic outbreak around the world would cause many painful losses, Spain has recorded many positive signs for preventing the spread of the coronavirus, and this was the second time the Embassy of Spain in Vietnam and Vietnam-Spain Friendship Association accompanied in the organization of activities commemorating the World Tapas Day. This cultural exchanging event surely contributes to further strengthening and deepening of the solidarity, friendship and collaboration between two countries and people.
In this event, young people from Vietnam and Spain were also highlighted when they were representatives of the younger generation to strengthen and beautify the people-to-people relationship of the two countries. It is Irena Reguilon - a young and beautiful trainee at the Embassy of Spain.
Irena shares that she has been working in Vietnam for nearly 1 year and she feels lucky and happy to be here to look for opportunities to develop herself. She adds that she now considers herself a native when she buys herself a motorbike so she can explore every corner of Hanoi and integrate into the local life here. Irena's new friends here are two students from the Spanish language department of Hanoi University, Nguyen Anh Thu and Do Phuong Linh. These two lovely young girls responded to the Spanish embassy's invitation to participate in a cooking contest to make their own special Spanish dishes, Ctoquetas de elote con queso and Tapas de Aguacate con camarones salteados y huevos de cordoniz - can be understood as a rustic Spanish appetizers.
It is certain that these young people who will be the bridge, the factors to promote and deepen the attachment, friendship and intimacy in the relationship between Vietnam and Spain's people-to-peole relation in the future.
It should also mention to the Spanish couple, the founders of Chula Fashion, at 43 Nhat Chieu, along the romantic Hanoi's West Lake. Laura and Diego came to Vietnam in 1994 for their honeymoon vacation when they got married. Interestingly, Laura found her pregnant when they were wandering in Hanoi, they felt in special love and a fate with this thousand-year-old capital of the East, so they decided to stay in Hanoi to develop their career, live and started the new life.
Since then, the Chula Fashion brand was born and first just a job to help young couples make a living in a foreign country. Laura majored in political science while Diago was an architecture, but Laura's discoveries and love for Vietnam's textile, silk and fabric industries made them professional fashion designers when exploiting the most impressive and special aspects of Vietnamese fashion combined with the cool, sexy and fiery style in Spanish fashion style to give birth to impressive apparel products which are is loved by many customers in both Vietnam and abroad. (VietnamTimes Magazine will introduce more about this Spanish-Vietnamese style fashion brand later). With 16 - year history of its establishment and development, the Chula Fashion brand in the Hanoi capital of this S-shaped country was chosen by the Embassy of Spain as the venue for a cultural exchange event between Vietnam and Spain amid the time the two countries striving together and supporting each other to overcome the epidemic to recover and develop together.
VNF