Young overseas Vietnamese prove crucial to homeland's innovation
Overseas Vietnamese (OVs) are viewed an important resource for national development and safeguarding, and young expatriates have proved to be an important part of innovation promotion in the homeland.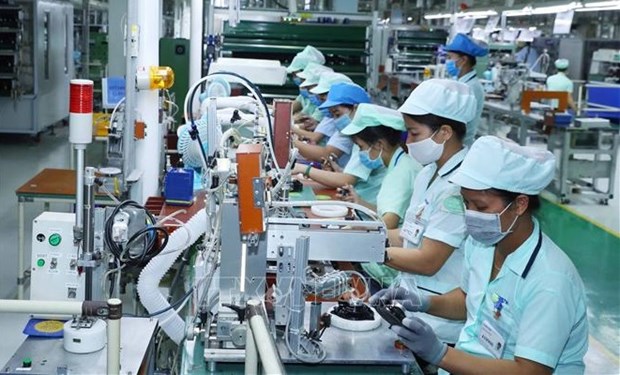 Illustrative image (Photo: VNA)

Vietnam is still lagging behind many countries in terms of technology readiness, innovation, and labour productivity.

According to the World Intellectual Property Organisation (WIPO), Vietnam ranked 44th in the Global Innovation Index 2021. With this position, it still tops the lower-middle-income countries but has fallen two places from last year.

To address shortcomings and create stronger momentum for innovation and science - technology, human resources have a significant role to play.

The 13th National Party Congress identified developing human resources, especially high-quality ones, as one of the three strategic breakthroughs.

With the viewpoint that people are the centre, the target, and also the impulse for development, in achieving ambitious development goals, Vietnam will have to exert efforts to develop and fully tap into the huge potential of Vietnamese people not only at home but also abroad.

The Politburo has been affirming that OVs are an important resource for national construction, development, and safeguarding.
 
Daniel Hoai Tien, a Vietnamese-American born in 1988, is an expert in sustainable agriculture and cooperative economy. He has travelled across rural areas in Vietnam to help locals develop sustainable agricultural production chains (Source: VTV24)
About 5.3 million Vietnamese are living and working in more than 130 countries and territories around the world, 80 percent of them in developed countries, and about 50 percent young expatriates.

Those under the age of 45 account for some 60 percent of the number of Vietnamese in the US, Germany, and Australia - the second homelands of over 50 percent of the total OVs. Young expatriates hold huge potential for contributing to innovation and science - technology, according to preliminary data of the State Committee on OVs.

Regarding intellectual power, about 500,000 OVs hold a bachelor's or higher-level degrees, including many working at research institutes, universities, and technique - technology centres of such developed nations as the US, Japan, and Canada.

In terms of finance, unofficial statistics show that the OV community has an annual income of about 50 billion USD. The income of young expatriates can reach up to 30 billion USD per year.

Particularly, though young expatriates were born and grew up overseas, the Vietnamese origin is the one differentiating them from other foreign investors and intellectuals when coming to work in the country. In the recent past, a number of young OVs have returned and contributed considerably to the homeland./.
 
Q.Hoa t.h / TTXVN