Celebrating the 40th anniversary of establishment of diplomatic relations between Vietnam and Netherlands
(Vietpeace) The Vietnam Union of Friendship Organnizations (VUFO) and the Vietnam - Netherlands Friendship and Cooperation Association (VNFCA) held a ceremony in Hanoi to mark the 40th anniversary of the establishment of diplomatic relations between Vietnam and the Netherlands on April 24.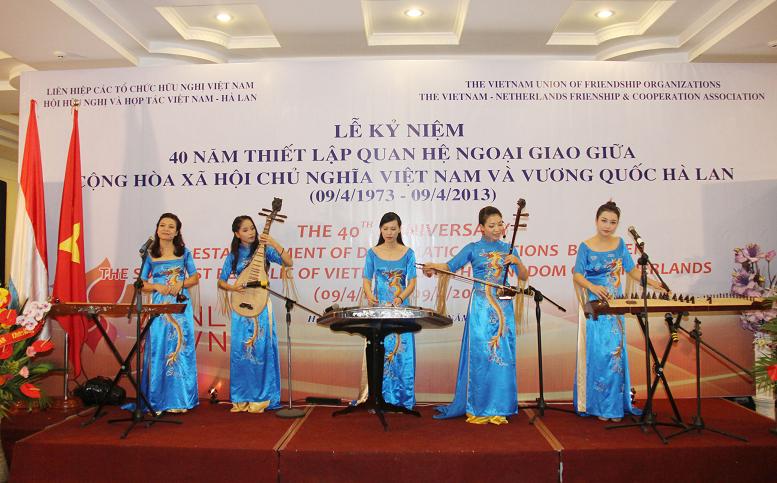 Attending the ceremony were Ms. Nguyen Thi Hoang Van, VUFO's General Secretary; Mr. Dao Xuan Hoc, VNFCA Chairman; Mr. Joop Cheffers, Dutch Ambassador Extraordinary and Plenipotentiary; VNFCA's representatives and Dutch Embassy staff.

Addressing at the ceremony, Mr. Dao Xuan Hoc said that Vietnam and the Netherlands have obtained many great achievements in all fields over the past 40 years, particularly in the bilateral friendship and cooperation relations. As a core force in the enhancement of friendship  and cooperation relations between the peoples of the two countries, VUFO and VNFCA wish to have further important contributions, together with Dutch partners, to promote friendship and cooperation relations between the two countries.

In his speech, Ambassador Joop Cheeffers expressed sincere thanks to VUFO and VNFCA for such a meaningful ceremony. He said that the Netherlands and Vietnam have many similarities in regard to geography. Both are coastal countries with flooded plains, and have to face challenges of climate change caused by rising sea level and natural disasters.

Ambassador Joop Cheeffers hoped that these similarities can help the two countries leverage each other's strengths, create favorable conditions to bring bilateral relations towards  strong and in-depth development, equal cooperation, mutual benefit, for peace, stability, cooperation and development./.