Sri Lankan delegation of artists visits VUFO
(Vietpeace) The delegation of artists from the Sri Lankan Ministry of Culture and the Arts and the Sri Lanka-Vietnam Solidarity Association (SVSA), headed by Mr. N.P.V.C Piyathilake, Assistant Secretary of the Ministry of Culture and Arts of Sri Lanka, was warmly welcomed at the headquarters of the Vietnam Union of Friendship Organization (VUFO) on May 4th.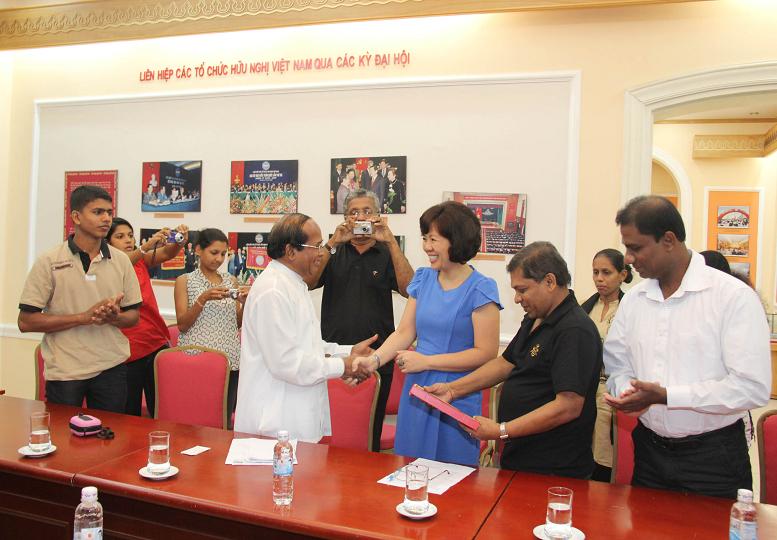 Present at the meeting were Ms. Nguyen Thị Hoang Van, VUFO's Secretary General; Mr. Vu Quang Diem, former Vietnamese Ambassador to Sri Lanka; Mr. Nguyen Van Tien, Director of the Army Theatre;  representatives from VUFO's departments and the Army Theatre's artists.

At the meeting, Ms. Nguyen Thi Hoang Van, on behalf of VUFO's leaders, highly appreciated the visit of the delegation. She said that cultural exchange is the shortest way to promote solidarity and friendship relations between the peoples in the world and strengthen understandings among nations. The performance of the Sri Lakan artists in Vietnam is a good chance for the Vietnamese to have a good understanding of the country, people and culture of  Sri Lanka.

Ms. Nguyen Thi Hoang Van also made an introduction to the delegation of VUFO's organization structure, statutes, main tasks and member organizations. She added that the Vietnam - Sri Lanka Friendship Association is going to be established, which will play an important role in the enhancement of  solidarity, friendship relations and bilateral cooperation between the two peoples.

On behalf of the delegation, Mr. N.P.V.C Piyathilake and Mr. S. Sudasinghe – General Secretary of the Sri Lanka - Vietnam Solidarity Association expressed sincere thanks for VUFO's warm reception. Both highly appreciated the good traditional relations between the two countries. They hoped the two countries will have more activities to further strengthen  solidarity, friendship relations and bilateral cooperation  between the two countries in the future./.