Donating wheelchairs to disabled people
(Vietpeace) The Vietnam Union of Friendship Organizations (VUFO) held a ceremony in Hai Phong on August 12th to donate 550 wheelchairs and tool-kits sponsored by the Free Wheelchair Mission (FWM) through the Giving It Back To Kids (GIBTK).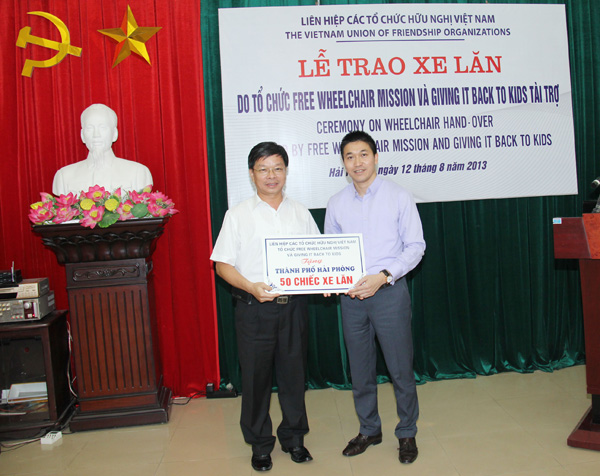 Recipients are the disabled from Lao Cai, Phu Tho, Quang Ninh, Thanh Hoa, Nghe An and Hai Phong.

FWM is an American NGO that sponsors wheelchairs for disabled people. In recent years, through other NGOs operating in Vietnam, FWM has offered thousands of wheelchairs for Vietnamese disabled.

Authorized by FWM, GIBTK has coordinated with Vietnamese partners for FWM's support to the right benificiaries and with the right purposes. FWM  has committed to continue its cooperation with VUFO in donating free wheelchairs to disabled people.

On behalf of the Organising Board, Mr. Phan Anh Son, VUFO's Deputy Secretary General, PACCOM's Director General, expressed his sincere thanks to FWM and GIBTK, and affirmed that the wheelchairs would be delivered to to the right benificiaries.

On behalf of the beneficiaries, Mr. Hoang Dang Giai from Do Son - Hai Phong said he was grateful to FWM, GIBTK and VUFO. With the given new wheelchair, he could move and do a lot of good in his life.

By donating free wheelchairs,VUFO and the donors wish to reduce the burdens in life of the disabled people in Vietnam, and bring to them a life full of love and sharing./.