Vietnamese Soldier's Helmet Returned to Fammily
(VietPeace) - The People's Aid Coordinating Committee (PACCOM) in coordination with the Development of Vietnam Endeavors (DOVE Fund) and the People's Committee of Huong Non Commune, Tam Nong District, Phu Tho Province held a ceremony handing over the helmet of Martyr Bui Duc Hung to his family on January 14th.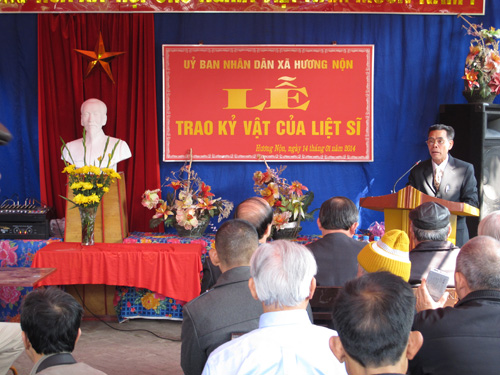 Representatives from PACCOM, DOVE Fund, the Phu Tho Union of Friendship Organizations, the Phu Tho Department of Labor, Invalid and Social Affairs, Tam Nong district People's Committee and the commune veterans were attending the ceremony.
In a solemn atmosphere, the Martyr's helmet, scratched with the Martyr's name, a palm tree and a dove with outstretched wings, was handed over to the family by DOVE Fund representatives. The ceremony saw the tears of the family members and the wartime teammates, and the handshakes of the gentle Vietnamese with American veterans.
A family member, Mr. Bui Duc Diep, expressed his gratitude to VUFO, local leaders and the DOVE Fund for returning Hung's helmet to the family.
Martyr  Bui Duc Hung, born in 1940, was killed in a fierce battle near Ban Me Thuot in August 1968.  After the battle, an American soldier named John Wast found the helmet and took it home as a war souvenir. Nearly 46 years later, J. Wast decided to ask DOVE Fund to locate Hung's family and return the helmet.
Phan My