Photo Exhibition highlights Vietnam-UK relations
(Vietpeace) The photo exhibition "Vietnam-UK relations: from the past to the future" was co-organised by the British Embassy in Hanoi and the Vietnam News Agency (VNA) organised on September 30th in Hanoi.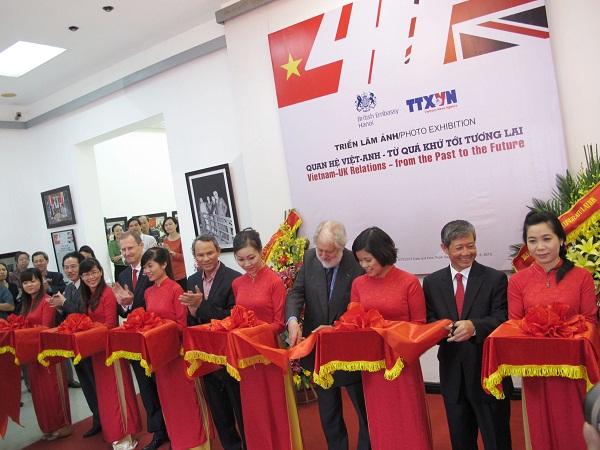 This event was one among a serie of activities to celebrate the 40th anniversary of diplomatic relations between Vietnam and the United Kingdom (1973-2013).
Attending the event were Mr. Vuong Thua Phong, Executive Deputy Head of the CPV Central Committee's Commision for External Relations; Mr. Hoang Van Dung, Chairman of the Vietnam – UK Friendship Association; Mr. Nguyen Thanh Hung, Deputy Minister of Information and Communications; Mr. Ngo Ha Thai, Deputy General Director of the Vietnam News Agency; representatives of the Vietnam Union of Friendship Organizations and members of the Vietnam - UK Friendship Association.
Lord David Puttnam, the UK Prime Minister's Trade Envoy for Vietnam, Laos and Cambodia; Mr Antony Stokes, Ambassador of the United Kingdom of Great Britain and Northern Ireland in Vietnam; representatives of some British organisations and companies in Vietnam were also present.
In his opening speech, Mr Ngo Thai Ha affirmed that the friendship relation between Vietnam and UK has been growing for 40 years; and that the photos highlight the friendship between the two countries, contribute to promoting mutual understandings and trust, and strengthen the friendship, solidarity and bilateral cooperation between the two peoples.
Lord David Puttam expressed his delight at the fine development of bilateral realations, and underlined the significance of the exhibition in order to further strengthen Vietnam-UK relations. He expected the friendship and cooperation relations between will furrther develop.
100 photos are divided into 2 sections: Section 1 presenting the close ties between Vietnam and the UK in the fields of politics, economics, culture, education and training, and science and technology…; Section 2 reflecting the image of UK today through lens of photographers of different generations.
Many precious pictures reflecting the close relation between Vietnam and the UK through periods were taken by VNA photographers.

PV