The 5th Convention of Japan Alumni of Vietnam
On December 14, the Japan Alumni of Vietnam (JAV) held the 5th Convention (Tenure 2013 – 2016) in Hanoi. The Convention saw the presence of Mr. Nghiem Vu Khai, Chairman of the Vietnam – Japan Friendship Association (VJFA); Mr. Saita Yokio, Counselor of Japanese Embassy to Vietnam; Mr. Hoang Van Nhan, Vice Chairman cum General Secretary of VJFA; Mr. Nguyen Ngoc Binh, VJFA Vice Chairman; representative of the Ministry of Foreign Affairs and members of JAV.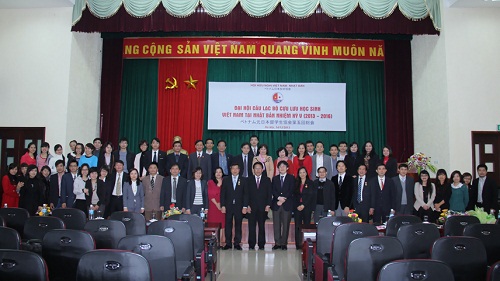 In the 4
th
tenure (2010-2013), JAV kept on maintaining external activities, creating its prestige in Southeast Asia and Japan. Especially, JAV raised a subscription of VND 600 millions to assist victims of the tsunami in the Northeast of Japan; successfully held the 20
th
Conference of ASEAN Council of Japan Alumni (ASCOJA 20) from September 6-9, 2013 in Hanoi. These activities have raised the JAV's status in Vietnam and the region as well. 
In the tenure 2013 – 2016, JAV will be more effectively and practically promoting annual activities in order to attract more new members' participation, establish groups of alumni in different provinces and schools, frequently organize seminars, science and technology activities and exchanges in diverse forms, promote interacting activities between ex-students and their university professors and teachers in Japan;  expand relationship and exchanges with Japanese organizations, associations, companies in Vietnam, etc.
Addressing at the event, Mr. Nghiem Vu Khai, VJFA Chairman congratulated and appreciated achievements gained by the JAV in the last tenure. He hoped that JAV should conduct richer, more diverse and practical activities; continue to expand its member network; enhance activities of friendship exchanges…
Mr. Saita Yukio extended his congratulations to the Convention's success, and his thanks to JAV for its successfully holding the ASCOJA 20. JAV would continue to carry out more significant and practical activities to contribute to strengthening relationship of friendship and cooperation between the two countries' people, he believed.
On behalf of the VUFO Presidium, Mr. Nghiem Vu Khai presented a Certificate of Merits and three Medals "For Peace and Friendship among Nations" to individuals who have made considerable contributions to JAV's operation during the tenure 2010 - 2013
The Convention elected new JAV's Board of Directors including 33 members. Ms. Ngo Minh Thuy, Dean of the Department of Languages and Oriental Culture, University of Foreign Languages – Hanoi National University, was elected the Club Chairman of the tenure 2013-2016. 
Duc Minh