"Friendship song" exchange on occasion of 35th anniversary of southwest border defense war victory
A cultural exchange program was held by the Vietnam – Cambodian Friendship Association (VCFA) in coordination with the People's Army Newspaper and the Military Zone 7 High Command to celebrate the 35th anniversary of the Southwest border defence war victory and the triumph of Cambodian people over the Polpot genocidal regime (January 7, 1979-2014) at Concert Hall of Ho Chi Minh City Television in the evening of January 6th.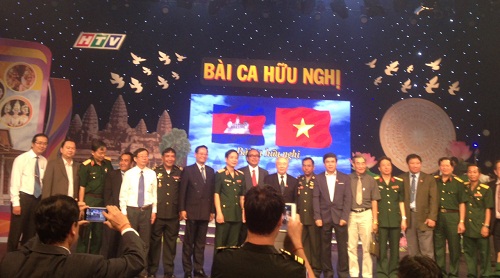 Attending the event were Mr. Vu Mao, VCFA Chairman; Lieutenant General Pham Van Dy, Political Commissar of the Military Zone 7 High Command; Lieutenant General Le Phuc Nguyen, Editor-in-Chief of the People's Army Newspaper; Mr. Nguyen Quy Hoa, Director General of the Ho Chi Minh City Television.
On the Cambodia side were Mr. Vann Phal, Deputy Minister of State, Vice Chairman of the Cambodia - Vietnam Friendship Association (CVFA); Mr. Sim Sokhom, Consul General of the Cambodia Kingdom in HCM City; General Than Sonkhen, research fellow of the Vietnamese Military Academy.
The program was a mixture of musical performances, exchanges and TV reports: "Victory and Revival" and "For Cooperation and Development". The program had some touching moments with video clips showing the painful loss suffered by the  Cambodian people due to genocide regime, emotional feelings shared by Genral Than Sonkhen and Mr. Vann Phal.
The event was broadcasted live on channel HTV9 of Ho Chi Minh City Television and was relayed on TV Defense Channel and some other local televisions.
Duc Minh