VUFO President receives CVFA's Delegation
The delegation of the Cambodia - Vietnam Friendship Association (CVFA) headed by Vice Chairman Van Phal was received by Mr. Vu Xuan Hong, President of the Vietnam Union of Friendship Organizations (VUFO) at VUFO headquarters on 4th January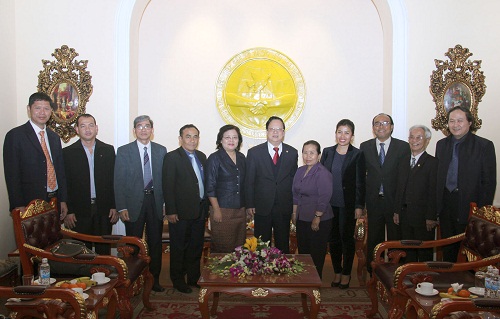 The event also saw the presence of Mr. Vu Vuong Viet, Vice Chairman of the Vietnam - Cambodia Friendship Organization; Mr. Nguyen Van Mỹ, Director  General of the Asia - Africa Department.
President Vu Xuan Hong warmly welcomed the delegation's visit to Vietnam for attendance at the meeting of the 35
th
anniversary of the southwest border defense war victory and the triumph over the Polpot genocidal regime (January 7, 1979 - January 7, 2014).  
President Vu Xuan Hong expected, through delegation exchanges, two friendship Associations soon have cooperative plans and programs based on new initiatives suitable to current situation of the two countries, helping the two countries' people understand each other and accumulate the traditional bonds of Vietnam - Cambodia friendship more practical and effective in all fields.
Mr. Van Phal thanked President Vu Xuan Hong for the reception and his good sentiments to the delegation.
In the morning, the delegation attended the exchange "Uncle Ho's Soldiers – Soldiers of Buddhism" organized by the Vietnam Association of Education  and Psychology (VAPE) and the Centre of History and Tradition Education.
Duc Minh