Japan Finances Mine Clearance in Vietnam's Central Province
Japan aids US$ 648.148 (almost JPY 70 million) to clear bombs and mines in the central province of Quang Binh.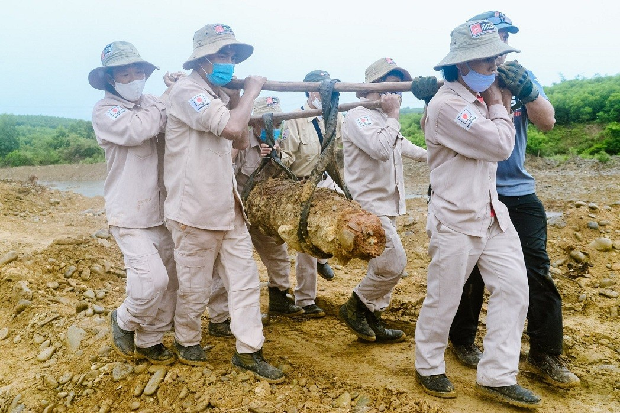 MAG's team funded by the Governrment of Japan removing a MK82-500lb bomb in Quang Binh.
The Mines Advisory Group Vietnam (MAG Vietnam) on March 15 has signed the contract for a new funding from the Government of Japan through the Grant Assistance for Grassroots Human Security Program to continue the mine action activities in Quang Binh province.
Due to the Covid-19 pandemic, the grant signing ceremony was held virtually by the Embassy of Japan in Hanoi with the attendance of MAG alongside other grantees.
Vietnam is one of the countries hardest-hit by bombs, mines and explosives left over from the war. According to 2018 data, up to 6.1 million ha in the country are contaminated by bombs and mines, accounting for 18.71% of the total. Post-war unexploded ordnances (UXO) are scattered in 63 cities and provinces, mostly in the central region.
All wards, communes and districts in Quang Binh are contaminated by bombs and mines with a total area of nearly 225,000ha. More than 40 years have passed since the end of the war, 164 bomb and mine accidents in the locality have killed 49 and injured 115 others. Thousands of residents have become disabled during their life due to limited awareness of UXO.
Even today, there are still many areas that have not been reclaimed, adversely affecting the development of agricultural land.
The new funding, worth US$ 648.148 (almost JPY 70 million), will enable MAG to clear over 2,500,000m2 of land contaminated with cluster munitions and explosive ordnance; respond to emergency calls to remove immediate threats posed by explosive ordnance; and provide 134 Explosive Ordnance Risk Education sessions to the most at-risk communities.
MAG's work will benefit women, girls, boys and men in areas affected by the remnants of war in Quang Binh.
MAG is a non-governmental organization that conducts humanitarian demining activities in areas where war has occurred or is currently taking place.
The organization's work has helped more than 17.7 million people in conflict-affected communities in over 40 countries since 1989, giving them greater safety and the opportunity to rebuild their lives, livelihoods and futures.
In Vietnam, MAG began its activities in central Quang Tri province in 1999. It expanded its operations to central Quang Binh province in 2003.
MAG also completed a two-year project in the central province of Quang Nam from 2012 to 2014. Currently, MAG is continuing to operate in Quang Binh and Quang Tri – the most contaminated provinces in the Southeast Asian nation.
​* In the same day, the Japanese Embassy in Vietnam on March 15 has signed aid contracts for eight other projects in the Japanese government's Grassroots Human Security Program 2021.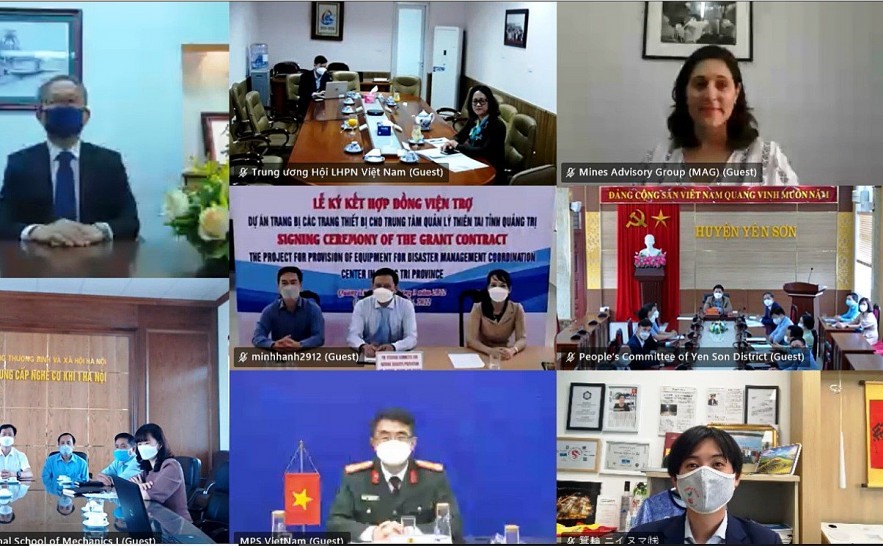 The total amount of aid for nine signed projects this time is US$ 1.6 million, including:
1. Cluster bomb disposal project in Quang Binh province
2. Construction project of kindergartens and disaster shelters in Sop Nhuc village, Pha Danh commune, Nghe An province
3. Traffic Safety Equipment Supply Project in Quang Binh province
4. The project of providing crime prevention equipment in the mountainous districts of Huong Hoa and Dakrong, Quang Tri province
5. Project of supplying used fire trucks to Vietnam's two provinces
6. Project to build a medical station and provide medical equipment in Son Dien commune, Thanh Hoa province
7. Equipping Equipment for Quang Tri Disaster Management Center
8. Project to provide solar power system for unconnected areas in Tuyen Quang province
9. Project on procurement of equipment for training in Automotive Technology at Hanoi I Mechanics Vocational Intermediate School
The small-scale grassroots grant program will study each urgent need at the local level carefully, in cooperation with local governments and NGOs. This program has been implemented in Vietnam since 1992, so far 715 projects have been implemented, with a total aid amount of US$ 63 million.
The Japanese government cooperates with local agencies and NGOs to solve basic community problems, making an important contribution to supporting the sustainable development of Vietnam. Through the grassroots grant program, the Japanese Government hopes to further promote practical cooperation.
Q.Hoa t.h / Thoidai