Press conference about free medical check-ups and treatments for Cambodians
(Vietpeace) The press conference was held at the headquarters of the Vietnam Union of Friendship Organizations (VUFO) on June 18th.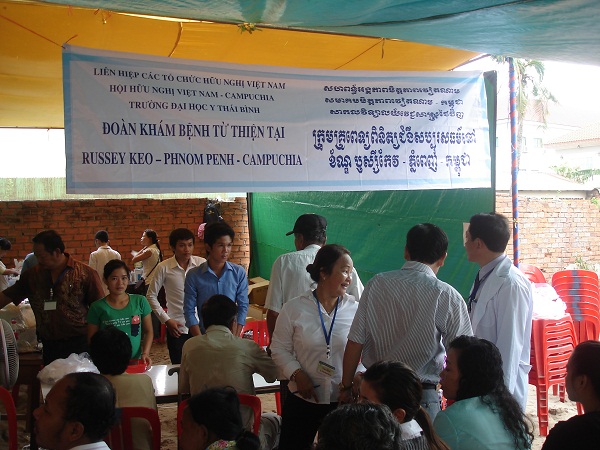 Attending the press conference were Mr.Vu Vuong Viet, Vice Chairman of  the Vietnam-Cambodia Friendship Association (VCFA); Mr Nguyen Van My, Director General of VUFO's Asia - Africa Department; Assoc. Prof. Dr. Nguyen Quoc Tien, Vice Rector of Thai Binh Medical University;  and members of the medical delegation to Cambodia.

The delegation of 9 experienced doctors from Thai Binh Medical University was joined by one Cambodian doctor working at Cho Ray Hospital in Ho Chi Minh City and ten other Cambodian doctors, who had graduated from Thai Binh Medical University. 

From 2nd  to 11th  of June, nearly 6000 Cambodian people living in Russey Keo, a municipal district  of Phnom Penh, were provided with free medical check-ups and treatments.

A big amount of medicine worth 400 million VND was prescribed and given to the people. And the representative of VCFA presented gifts worth 50 Million VND to the local people.

Inspire of the hot weather and language barrier, the doctors, with high sense of responsibility, did well the role of physicians in particular and messengers of the Vietnam- Cambodia friendship in general

Mr.Nguyen Quoc Tien said, the Cambodian Senate and the Vietnamese Embassy highly appreciated the outcomes of the delegation's program in Cambodia.

Mr. Ly Quang Bich, VCFA's Deputy Secretary General, added that the delegation's program attracted much attention of the peoples, governments and news agencies of  the 2 countries.

The delegation acted as a link between the two peoples, he said, and made a wide and deep propaganda to the Cambodian people of all levels about the friendship relation, solidarity, mutual assistance between the peoples of Vietnam and Cambodia.

The Vietnam Union of Friendship Organizations had overcome financing difficulties and made good preparation for the delegation, he said.
On behalf of the delegation, he expressed thanks to Thai Binh Medical University, relevant institutions of Vietnam, sponsors and Cambodia government had created the best conditions for the delegation ./

Ngoc Anh