VCFA's 3rd National Congress in Hanoi
(Vietpeace) The 3rd National Congress of the Vietnam-Czech Friendship Association (VCFA) was held in Hanoi on June 30th.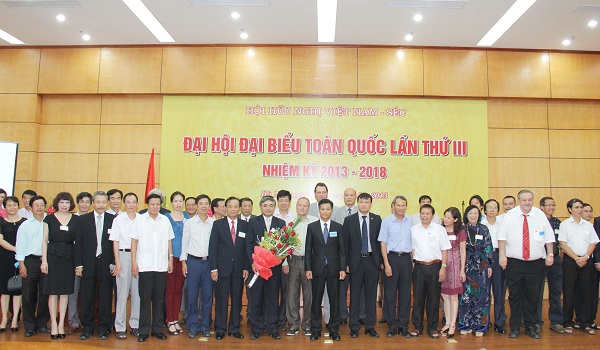 Attending the event were Mr. Vuong Thua Phong, Deputy Head of the CPV Central Committee's Commission for External Relations;  Mr. Don Tuan Phong, Vice President of the Vietnam Union of Friendship Organizations (VUFO); Mr. Nguyen Minh Hong, VCFA's Chairman; representatives from Ministry of Foreign Affairs, Ministry of Home Affairs, Ministry of Information and Communications, Ministry of Industry and Trade;  delegates from local VCFAs; and VCFA's members.

Mr. Martin Klepetki, Czech Ambassador Extraordinary and Plenipotentiary to Vietnam; Mr. Milos Kusy,  Chairman, and Mr Marcel Wintet, Honorary Chairman, of  the Czech-Vietnam Friendship Association; and Czech Embassy's staff  in Vietnam were taking part..

Mr Phan Dang Dieu, VCFA's Excutive Vice Chairman made presentation on VCFA's operations over the past 5 years and its directions and tasks for the 2013-2018 period.

Mr. Don Tuan Phong, VUFO's Vice President, appraised VCFA's efforts in its operations for  peace, solidarity and friendship between the two countries.
VCFA should, he added, consolidate existing partnerships, actively seek for new friends and partners, implement different forms of activities linking closely with promotion of cooperation in the fields of economy, trade, culture, education, environment, health, poverty alleviation…, pay attention to organization development and attract more members to VCFA, especially the youth.

Addressing at the Congress, Ambassador Martin Klepetko highly appreciated VCFA's operation outcomes, and congratulated the newly-elected VCFA's Executive Board.

He hoped that VCFA will continue cooperating with the Czech Embassy in its activities  to effectively contribute to  the implementation of  the Cooperation Program between Vietnam and the Czech Republic.   

Mr. Phong, on behalf  of VUFO's leaders, awarded a laudatory writing with the words "The Vietnam-Czech Friendship Association with excellent achivements in people-to-people diplomacy in the 2008-2013 tenure" to VCFA, and "For Peace and Friendship among Nations" medals to 7 outstanding members.

For the 2013-2018 tenure, the Executive Board of 53 members was elected, and  Mr. Nguyen Minh Hong, Deputy Minister of Information and Communications, was re-elected VCFA's Chairman./.  
Thu Huyền