VPDF's Third Convention held in Hanoi
(Vietpeace) The Third Convention of the Vietnam Peace and Development Foundation was held on May 30th at the headquarters of the Vietnam Union of Friendship Organizations (VUFO) in Hanoi.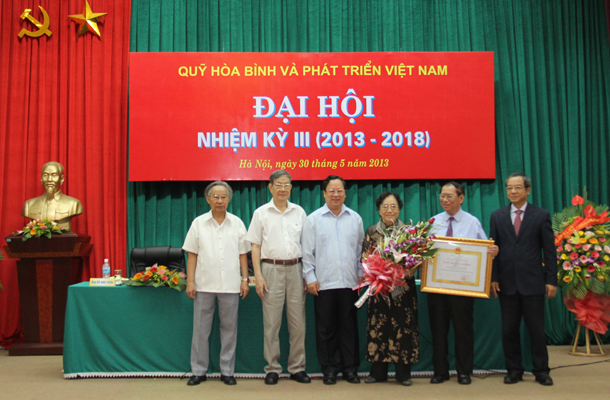 The Convention was attended by Mrs. Nguyen Thi Binh, former Vice State President, VPDF's President; Mr. Dao Viet Trung, member of the  Communist Party of Vietnam Central Committee (CPVCC), Head of the Presidential Office; Mr. Tran Dac Loi, Deputy Director of CPVCC's Commission for External Relations; Mr. Vu Xuan Hong, VUFO's President; VPDF Council members…

Mrs. Nguyen Thi Binh, in her speech, highlighted the foundation's outstanding achievements, which have greatly contributed to the national development.

However, there still remains shortcomings in VPDF's operation of , including the limited resources, she said, and the Convention is aimed at discussing solutions for the third tenure (2013-2018).

Ms Nguyen Thi Hoang Van, VPDF Secretary General, said VPDF has successfully taken full advantage of international solidarity to raise the status of Vietnam at international and regional people's forums and contributed to the overall movement of the world peoples for social progress, justice, and sustainable development.

In the next five years, Ms Van added, VPDF will focus on reinforcement of its organization, intensification of its operational efficiency, enhancement of people-to-people diplomacy and international solidarity for peace and development.

VUFO President Vu Xuan Hong underlined VPDF's achievements and contributions to people-to-people diplomacy and the national construction as a whole. He also presented the "For Peace and Friendship among Nations" insignia to six VPDF Council members in recognition of their contributions to the VPDF in the last ten years.

At the Convention, Mrs. Nguyen Thi Binh was re-electect President of VPDF for the third consecutive tenure.

The Convention also elected six Vice-Presidents, a 42-member Council, an 18-member Board, a three-member Control Commission, and a seven-member Secretariat.
 
The Vietnam Peace and Development Foundation (VPDF) has been, on the occasion of its tenth foundation (2003-2013), awarded a high distinction of the Socialist Republic of Vietnam - the Order of Labour, Second Class – for its great contributions to peace and development of Vietnam
               

Đồng Huy Cương