Ambassador Pham Thi Kim Hoa: Brazil Is One of Vietnam's Top Partners in South America
To celebrate 199 years of the National Day of Brazil (7/9/1822- 7/9/2021), Vietnam Times interviewed the Ambassador of Vietnam to Brazil Pham Thi Kim Hoa. The ambassador underlined that Brazil is one of Vietnam's top partners in South America.
Can you tell us about the outstanding achievements that the comprehensive partnership between Vietnam and Brazil has brought?
The diplomatic relation between Vietnam and Brazil has been developed over the last 30 years, starting in 1989, and was strengthened when Vietnam and Brazil became comprehensive partners in 2007. Brazil is one of Vietnam's top partners in South America. The two countries have been supporting each other to boost socio-economic development in each country and working closely in international organizations and multilateral forums.
As the fifth-largest country in the world with a population of 200 million people, Brazil is a market with great potential for Vietnamese businesses. Because Brazil is a member of the BRICS (five major emerging economies, along with Russia, India, China, and South Africa) and MERCOSUR (the Southern Common Market, along with Argentina, Paraguay, Uruguay and Chile), it is the gateway for Vietnam to infiltrate the Latin American market. Similarly, Vietnam is a gateway for Brazil to enter the Asian market, including ASEAN.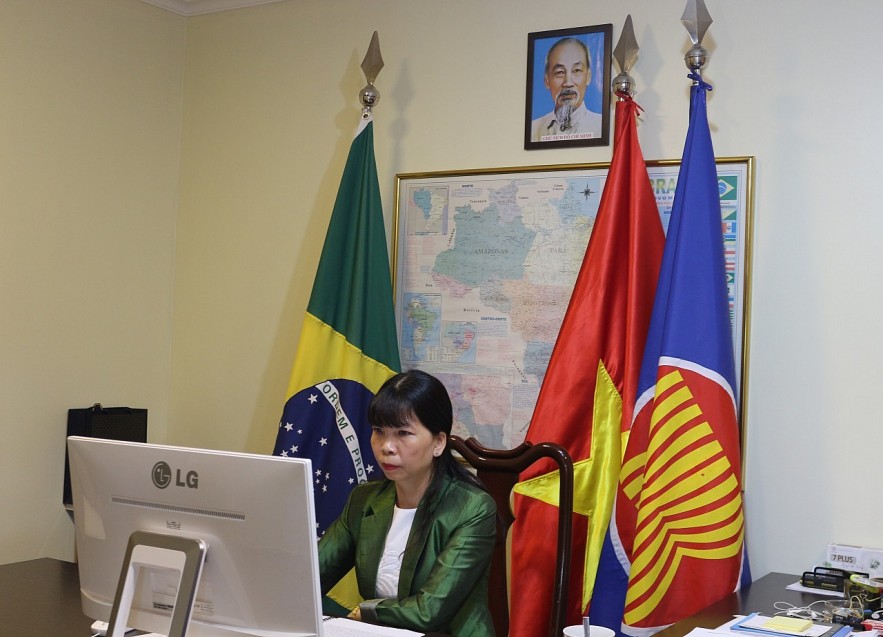 Ambassador of Vietnam to Brazil Pham Thi Kim Hoa. Photo: Vietnam Times
Bilateral trade between Vietnam and Brazil has been growing continuously, achieving US$ 4.6 billion in 2020 and US$ 3.25 billion in the first six months of 2021. I believe there will be more opportunities for cooperation for Vietnam and Brazil, especially as Vietnam and MERCOSUR members are looking to negotiate on a free trade agreement between Vietnam and MERCOSUR. Vietnam will also soon enter free trade agreements with Latin American countries.
What is more, based on comprehensive partnership, the cultural – education and tourism exchange between the two countries are enhanced and bringing the peoples of Vietnam and Brazil closer. When the Covid vaccine is rolled out throughout the world, I believe these cooperation activities will be expanded.
Ambassador Kim Hoa and Brazil President Jair Bolsonaro in June 2020. Photo: Vietnam Times
What should Vietnam and Brazil do to enhance this relation?
There is still immense potential for cooperation between both countries. I hope that the governments of Vietnam and Brazil can continue to create favorable conditions to enhance cooperation in other sectors such as investment, health, scientific and technological research, manufacturing and processing industries, clean energy and fuel, biotechnology, aviation, infrastructure and business cooperation.My main goal during my tenure is to maintain and enhance cooperation between the two countries in all aspects such as politics, economics and trade, defense, education and culture and tourism to bring forth Vietnam and Brazil's potential effectively.
One of my greatest hopes is to promote to Brazil and other countries a beautiful Vietnam with rich culture and a long history that is developing dynamically and affirming its reputation across the globe. As the Ambassador of Vietnam, I will strive to contribute to tightening the unified, friendly and cooperative relations between the two countries for the well-being of the peoples of Vietnam and Brazil.
Secretary for International Relations of the Workers' Party of Brazil Romênio Pereira visiting ambassador Kim Hoa. Photo: Vietnam Times
Can you share with us about the Vietnamese community in Brazil?
The Vietnamese community in Brazil is relatively small with a population of just 200 people. Most of them live in Sao Paulo and depend on small trade and tourism for their living. Due to the pandemic, like locals, most Vietnamese businesses must close down so they are facing significant challenges.
Despite this, they are determined to persist. The embassy keeps regular contact with the community's representatives to understand the Vietnamese community's situations and encourage them to adhere to local regulations to protect their health and overcome the pandemic.
They have praised the achievements that Vietnam has made in Covid prevention and thanked the government for their care and support. Further, the embassy has been assisting Vietnamese stranded in Brazil to fly home.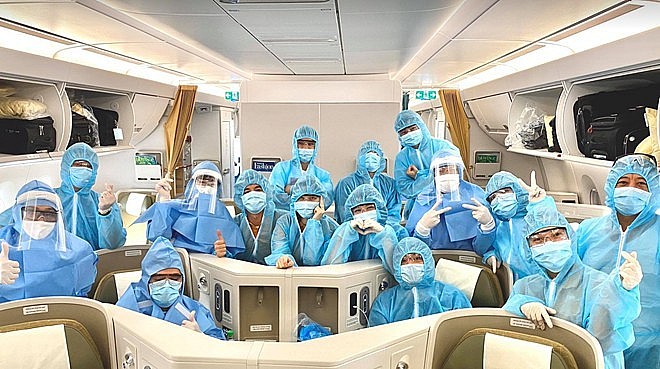 The Embassy of Vietnam in Brazil has been working with Vietnam and Brazil authorities to bring 100 stranded Vietnamese home. Photo: Vietnam Times
What has the embassy done throughout the pandemic to support the Vietnamese community?
As the Covid-19 pandemic continues to have complicated occurrences, the embassy has been tightening Covid prevention measures at the embassy and ensuring timely and effective citizen protection. We regularly update information on repatriation flights on the embassy's portal and quickly help those who want to return to Vietnam.
Since early 2021, the embassy of Vietnam in Brazil has been working with Vietnam and Brazil authorities to bring 100 Vietnamese citizens home on commercial and repatriation flights.
Q.Hoa t.h / Thoidai