Australia, US Continue to Give Helping Hands in Vietnam's Covid-19 fight
Countries are stretching out a helping hand to Vietnamese, helping those most in need.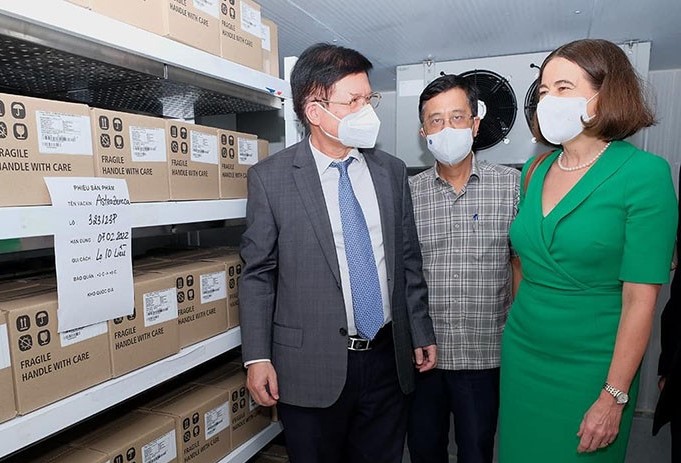 Australian Ambassador Robyn Mudie officially hands over 300,000 vaccine doses, 614,400 masks and 40,800 isolation gowns to Vice Minister of Health, Dr Truong Quoc Cuong.
Australia's Ambassador to Vietnam, Robyn Mudie, on Oct.6 announced that Australia will increase its support to Vietnam to help it secure approximately 5.2 million Covid-19 vaccine doses, lifting Australia's total contribution to vaccine access in Vietnam to AUD 60 million.
Ambassador Mudie made the announcement when she joined Vice Minister of Health Truong Quoc Cuong at the National Institute of Hygiene and Epidemiology today to formally handover 300,000 Australian-manufactured Covid-19 vaccine doses which arrived in Hanoi last week.
This was the second batch of doses to arrive from Australia. More than 700,000 doses have been delivered to Vietnam by Australia so far.
Ambassador Mudie also formally handed over personal protective equipment that Australia recently delivered to Vietnam. This included more than 600,000 N95 respirator masks and surgical masks, and more than 40,000 isolation gowns, which will assist Vietnam's ongoing efforts to combat Covid.
At the ceremony, Mudie announced Australia will assist Vietnam to purchase approximately 3.7 million vaccine doses through a procurement agreement with UNICEF and in partnership with Vietnam's Ministry of Health. This is on top of the 1.5 million doses Australia has already agreed to share with Vietnam, bringing the number of doses Australia will help Vietnam secure to approximately 5.2 million.
In addition to Australia's support for vaccine delivery in Vietnam, Australia is working in partnership with UNICEF to support cold chain upgrades, training for healthcare workers, communications and planning and implementation of the vaccine rollout in remote provinces in Vietnam.
This week, Acting U.S. Consul General in Ho Chi Minh City Robert Greenan handed over 30 USAID-donated oxygen concentrators to Blue Sky Social Enterprise, a community-based organization working on HIV. This life-saving equipment enables families to provide Covid-19 care at home.
At the meeting, Greenan also discussed continued support for people living with HIV and other vulnerable communities during the pandemic.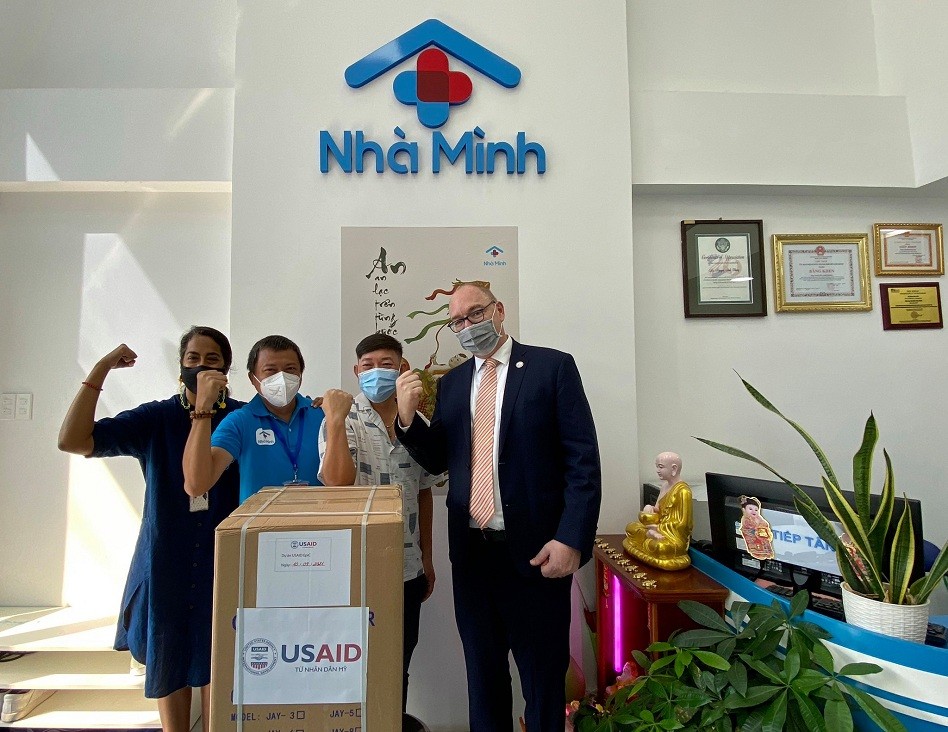 Acting U.S. Consul General in Ho Chi Minh City Robert Greenan visits Blue Sky Social Enterprise, a community based organization working on HIV.
Prolonged shutdowns in Vietnam's southern provinces of Tay Ninh, Tien Giang, Dong Nai, and HCM City have had profound economic implications, including leaving many people living with HIV (PLHIV) without basic resources. The USAID-supported Enhanced Community HIV Link – Southern project has worked with community-based organizations and health facilities to provide food aid to 2,000 PLHIV. Additionally, USAID's Meeting Targets and Maintaining Epidemic Control project worked with more than two dozen HIV treatment facilities in hard-hit areas to identify clients in need of food support and have reached more than 750 clients to date.
As Covid-19 raises unemployment, decreases incomes, and escalates food insecurity, USAID's support through temporary food aid during lockdowns is helping maintain HIV patient's health until the situation improves.
Earlier, on Oct. 2, the U.S. delivered an additional 1.5 million life-saving doses of the Pfizer vaccine to assist Vietnam in its fight against Covid-19. The doses came straight from the Pfizer facility in Kalamazoo, Michigan via the COVAX Facility. COVAX has remained a major provider of Covid-19 vaccines for Vietnam, supplying the country with a total of 14 million doses so far; while the U.S. has been COVAX's top vaccine donor, and Vietnam's largest supplier with 7.5 million doses.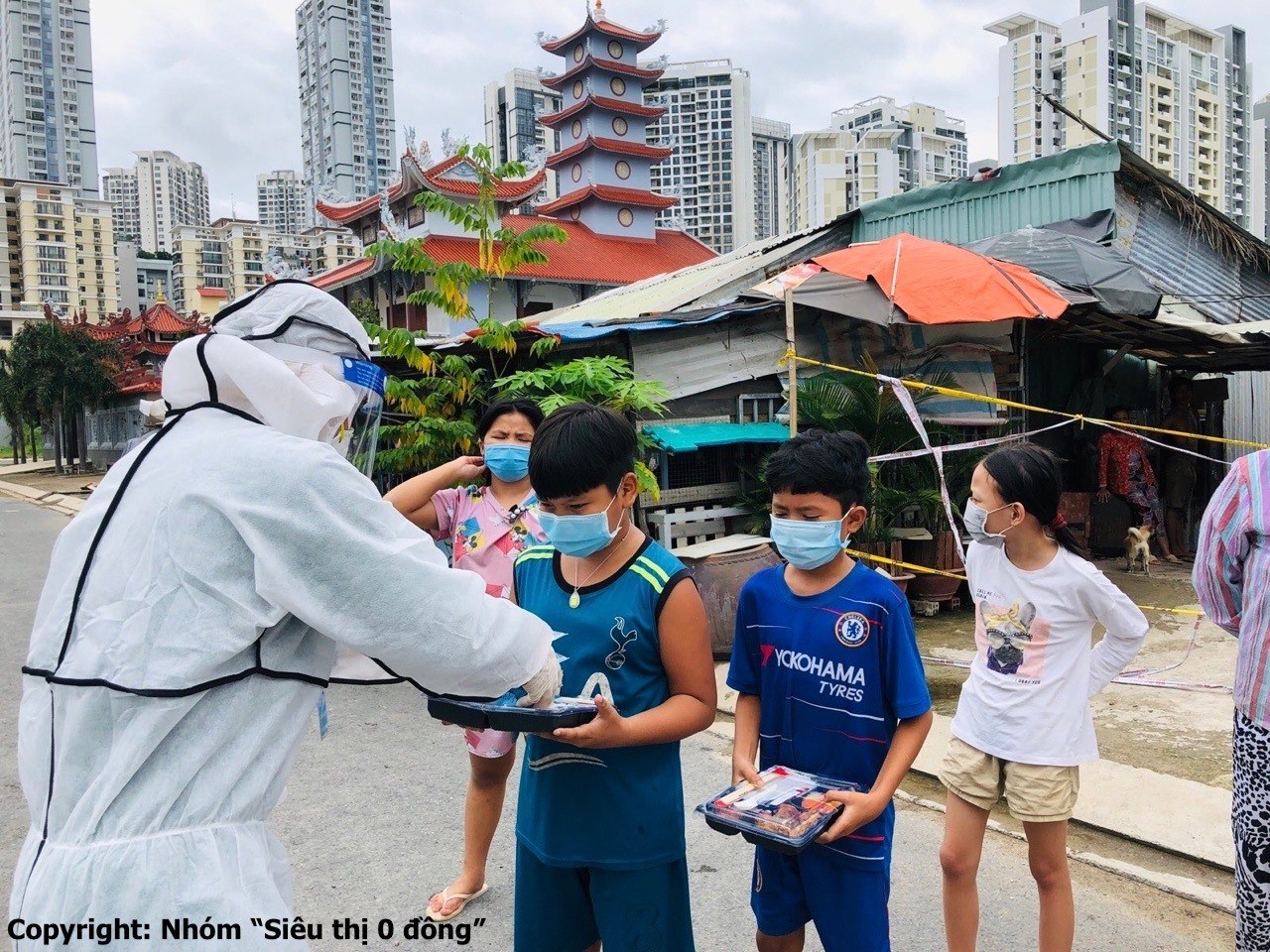 In September, the German Consulate General in Ho Chi Minh City supports volunteers in handing out 300 meals to needy families, students and workers, as well as to patients in isolated and quarantined areas in Go Vap and Thu Duc City. These meals are prepared by F&B business trainees of Mr. Francis Van Hoi and delivered by Siêu thị 0 đồng volunteer group Team Nghèo.
Last week, the German Consulate General in HCM City, the "A Piece of Germany in Vietnam" campaign and donors have sent 400 meals to Trung Vuong hospital where is currently treating cases of Covid-19 with underlying diseases and serious illnesses that other medical facilities cannot continue to treat. To strengthen the physical and mental health of the medical staff, as well as to show the gratitude for their dedication to caring for the patients, they have teamed up to donate 400 nutritious lunch sets to the hospital staff.
Throughout September, German Consulate General, the campaign and voluteers have delivered over 1,000 meals to families, international students and workers who are facing difficulties due to Covid; patients with suspected or confirmed Covid-19, in lockdown areas in Go Vap District and Thu Duc City; as well as staff of the field hospital No. 13 in Binh Chanh District.
Q.Hoa t.h / Thoidai