Dong Thap Union continues to provide COVID-19 aid for Vietnamese-Cambodians
On the afternoon of April 6, at Dinh Ba Border Gate to Bontia Chak Cray, the Union of Friendship Organizations of the Mekong Delta province of Dong Thap has presented VND 200 million (USD 8.700) to representatives of the Vietnamese Embassy in Cambodia to support overseas Vietnamese fight against the COVID-19 epidemic.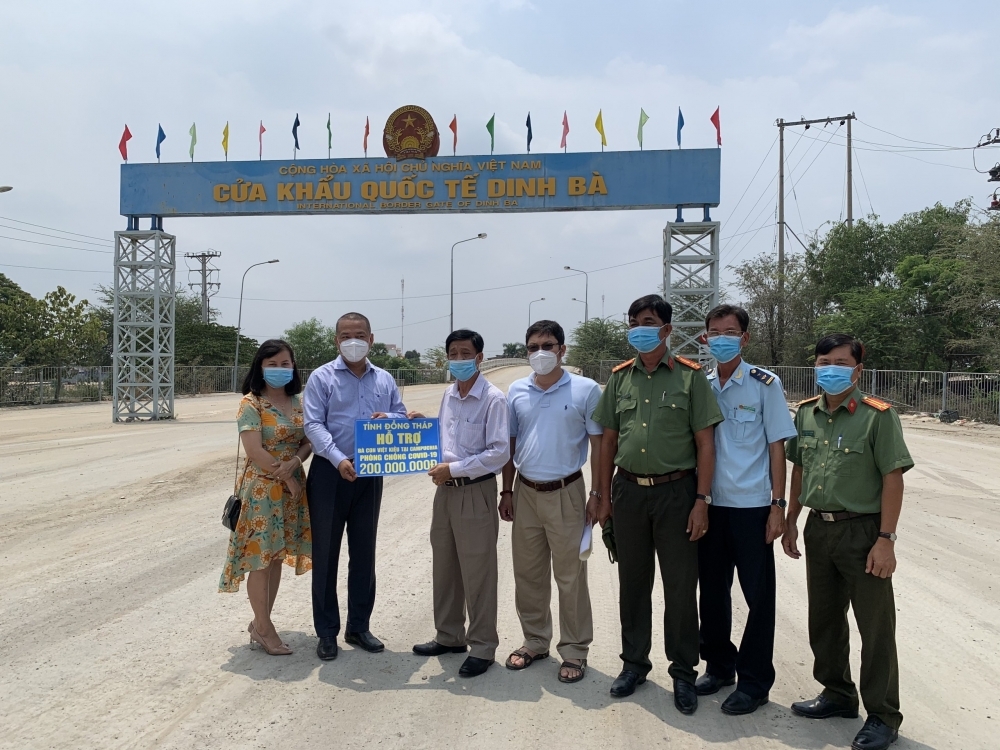 At the hand-over ceremony.
At the ceremony, the delegation's representative conveyed his sincere greetings and wished overseas Vietnamese in Cambodia to soon overcome the difficulties caused by the epidemic, unite to stabilize their lives and continue to contribute to the development of the host country.
Previously, the Dong Thap Union of Friendship Organizations also coordinated with the Vietnam Fatherland Front Committee, the Border Guard Command of Dong Thap province to hand over to the Khmer-Vietnam Association and the two provinces of Kandal and Prey Veng more than 131,000 medical masks, more than 700 bottles of antiseptic water, 210 barrels of noodles, 4 tons of rice.
According to Chairman of Dong Thap Union Union of Friendship Organizations Le Xuan Hai, the activities have contributed to further strengthen the solidarity, friendshipand cooperation between Dong Thap and Cambodian localities; at the same time. improve the effectiveness of epidemic prevention and control, support Vietnamese-Cambodians living in Cambodia to overcome difficulties and stabilize their lives.
Many philanthropists, businesses, and Vietnamese representative agencies in Cambodia have also donated food and medical supplies in recent times to disadvantaged Cambodians of Vietnamese origin in lockdown areas in the country.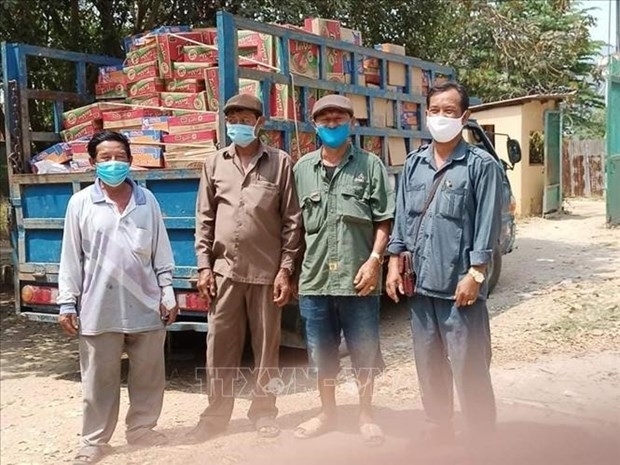 Food transported to Vietnamese expats in Kandal province in March 2021. Photo: VNA
According to the Cambodian Ministry of Health, the nation confirmed 63 new local COVID-19 cases and one new death. Of the new cases, 31 were found in the capital city of Phnom Penh, 22 in Svay Rieng province and six in Preah Sihanouk province.
Since the start of the pandemic in January last year, the Southeast Asian country has officially registered a total of 2,752 confirmed COVID-19 infections, with 21 deaths and 1,747 recoveries.
The country launched a COVID-19 vaccination drive on February 10. As of April 4, more than 581,000 people in the priority groups had been vaccinated against the virus, according to a government report.
Thoidai