More activities expected to be held by Sweden-Vietnam Friendship Association in 2021
The Sweden-Vietnam Friendship Association, established on June 23, 1983, is a member of the Vietnam Union of Friendship Organizations (VUFO). Since its establishment, it has served as a positive bridge in fostering the friendly cooperative relations between Vietnam and Sweden especially in the context of the COVID-19 pandemic.
Given the complicated development of the COVID-19 pandemic, many activities of the Association have been seriously interrupted, even some of which have not been implemented. However, the Association has made all-out efforts to maintain and implement regular activities.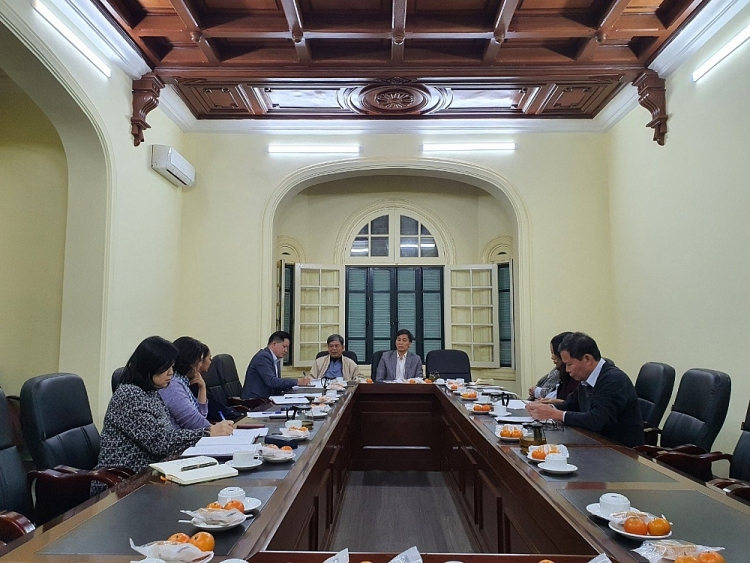 Overview of the conference on summarizing activities in 2020 and outlining orientations in 2021 of the Vietnam-Sweden Friendship Association.
Specifically, it actively organized friendly exchange activities such as introducing Sweden to students about to study in the country, organizing the Midsummer festival and Vietnam-Sweden jazz music concert.
Charity, humanitarian, and environmental protection activities have also been promoted. The Association donated nearly VND 40 million (US$ 1,730) in support of Hanoi Medical University's doctors to participate in the fight against the COVID-19 epidemic; planted 150 trees and presented books and food for a kindergarten in ​​Ha Giang. It also held an exchange of old clothes and charitable donations, took part in the boat-racing competition organized by Hanoi City, and collected trash at the West Lake.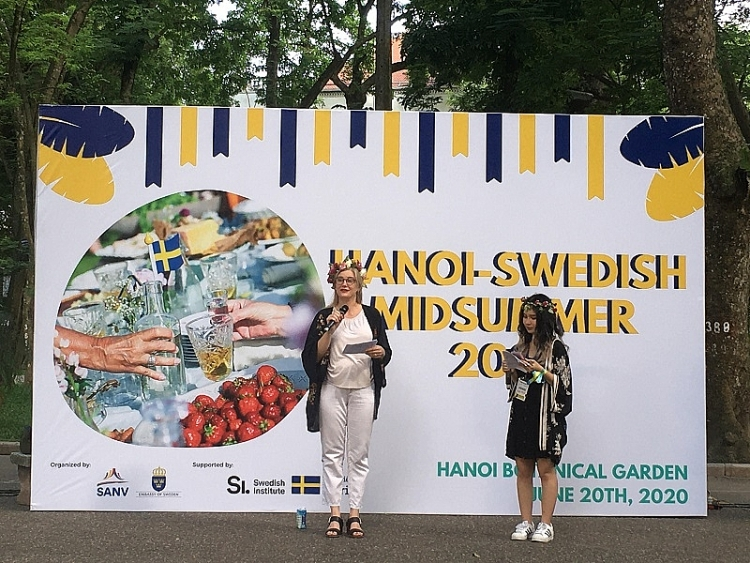 Ambassador Extraordinary and Plenipotentiary of Sweden to Vietnam Ann Mawe speaks at the Midsummer 2020 ceremony.
Under the 2021 plan, the Vietnam-Sweden Friendship Association will organize outstanding activities such as attending the anniversary of Swedish National Day, friendship exchanges on the occasion of the Nobel Prize awarded in Sweden, and Lucia's Day. The Association will also continue maintaining and developing a close and friendly relationship with the Swedish Embassy in Vietnam, the enterprise community operating in Vietnam, and its partners in Sweden.
Besides, the Association will coordinate with its chapter in the Hanoi Law University to organize a meeting with students to share information about the country, people, and judicial system of Sweden, introduce scholarships in Sweden as well as hold a photo exhibition about the country and people of Vietnam and Sweden on the occasion of the 52nd anniversary of establishing diplomatic relations between the two countries (expected in March 2021). It will coordinate with the Embassy and Alumni Chapter to hold friendly and cultural exchanges on the occasion of Midsummer (expected 3rd quarter of 2021). The Association will also visit and work with its chapter in National Children's Hospital, Vietnam-Sweden General Hospital in Uong Bi (Quang Ninh), and the Vietnam Alumni Chapter in Sweden (expected quarter IV of 2021).