Ninth Vietnam-Norway political consultation held in Hanoi
Deputy Foreign Minister Le Thi Thu Hang and State Secretary of the Ministry of Foreign Affairs of Norway Erling Rimestad co-chaired the ninth political consultation between the two foreign ministries, focusing on discussing bilateral cooperation as well as regional and international issues of shared concern.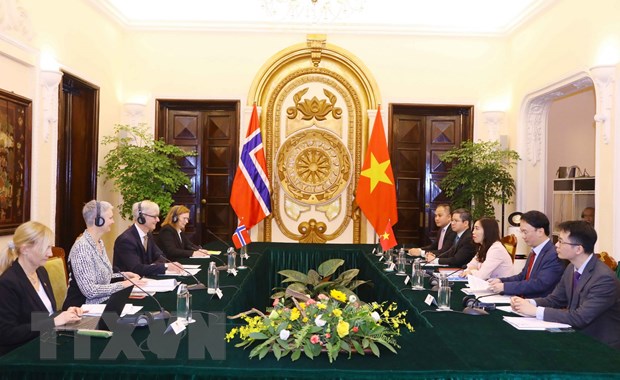 An overview of the ninth Vietnam-Norway political consultation (Photo: VNA)
Hang highlighted achievements in bilateral relations and suggested that the two sides continue to maintain the exchange of delegations at all levels and between the two ministries to strengthen mutual understanding and deepen bilateral political and diplomatic partnership.

As the second largest trade partner of Norway in the region, Vietnam hopes to further bolster economic cooperation with Norway through encouraging and attracting Norwegian firms to invest in Vietnam in the fields of renewable energy, green transition, circular economy, maritime economy, shipbuilding, green sea transport, and logistics, she said.

Hang proposed that Norway and the European Free Trade Association (EFTA) speed up the negotiations and signing of a free trade agreement with Vietnam on the basis of harmonised interests, thus creating breakthroughs in bilateral trade and investment collaboration.

She asked for Norway's assistance to Vietnamese sailors to work on Norwegian-flagged vessels and Vietnamese labourers to work seasonally in the country.

For his part, Rimestad affirmed that the Norwegian Government attaches great importance to cooperation with Vietnam, especially in trade, investment and energy transition.

He said he hopes for progress in the negotiations and signing of a free trade agreement between Vietnam and the EFTA.

Rimestad lauded Vietnam's strong commitments given at the 26th UN Climate Change Conference (COP26) as well as the bilateral cooperation potential within the Just Energy Transition Partnership (JETP) to which Norway is a member. Norway is willing to provide Vietnam with experience, technical and financial support during the country's transition to renewable energy, he affirmed.

At the event, Hang and Rimestad discussed measures to bolster cooperation between the two countries in agriculture, education-training, labour, science-technology and security-defence.

Both sides highly valued the potential of bilateral collaboration in maritime economy and green energy, contributing to creating new and practical momentum for the development of partnership in areas of Norway's strength and Vietnam's demand.

They also agreed to coordinate closely and support each other at UN agencies and organisations, while enhancing cooperation between ASEAN and Norway. They underlined the significance of ensuring maritime and aviation freedom as well as peace and security at sea, and respecting international law and the UN Convention on the Law of the Sea 1982.

The two sides also touched upon regional and international issues of shared concern./.
Q.Hoa t.h / VNA