Philippines issues statement on China's sinking of Vietnamese fishing vessel
The Philippine Department of Foreign Affairs (DFA) on April 8 issued a statement expressing its deep concern over a China coast guard ship's hitting and sinking of a Vietnamese fishing vessel in the East Sea.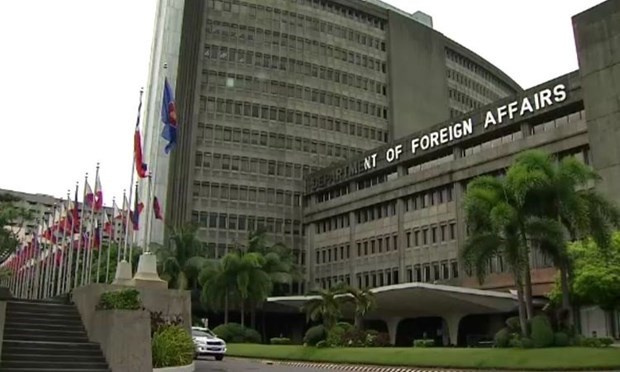 The headquarters of the Philippine Department of Foreign Affairs (Photo: CNN)
The statement said the Philippines' own similar experience revealed how much trust in a friendship is lost by it.

The DFA said it always values the maintenance of peace and stability in the East Sea and notes that such incidents undermine the potential of a genuinely deep and trusting regional relationship between the Association of Southeast Asian Nations (ASEAN) and China. Given the positive momentum on the discussions on a Code of Conduct in the East Sea (COC), it is crucial to avoid such incidents and address that differences in a manner that enhances dialogue and mutual trust.

There is never a good time to indulge in provocations, the DFA said, adding that the continued strengthening of regional relations is especially critical in light of the ASEAN-China joint commitment to collectively tackle the ongoing crisis brought about by the COVID-19 pandemic, as declared in the Statement of the Special ASEAN-China Foreign Ministers' Meeting on the Coronavirus Disease 2019 (COVID-19), issued on February 20, 2020.

The DFA recalled Vietnam's humanitarian act of directly saving the lives of Filipino fishermen, stressing that it created much trust. "We have not stopped and will not stop thanking Vietnam. It is with that in mind that we issue this statement of solidarity."

The Vietnamese vessel, number QNg 90617 TS, with eight fishermen on board, was fishing near Phu Lam island of Hoang Sa (Paracel archipelago on April 2 when a China coast guard ship hit and sank it.

While answering to reporters' queries about the incident, spokeswoman of the Vietnamese Foreign Ministry Le Thi Thu Hang said on April 3 that Vietnam has sufficient legal grounds and historical evidence affirming its sovereignty over Hoang Sa (Paracel) and Truong Sa (Spratly) archipelagos in accordance with international law.

Such an act by the China coast guard ship violates Vietnam's sovereignty over the Paracel islands, causing damage, threatening the safety of life and the legitimate interests of Vietnamese fishermen.

It also went against the common perception of senior leaders of the two countries on the humane treatment of fishermen and the Vietnam-China agreement on the basic principles guiding the settlement of maritime issues, and in contrary to the spirit of the Declaration of Conduct of the Parties in the East Sea (DOC), which complicates the situation and is not conducive to the bilateral relations as well as the maintenance of peace, stability and cooperation in the East Sea, she said./.
Q.H t.h / TTXVN