Preserving Vietnam – Laos special relations for future generations
The Vietnam – Laos Friendship Association (VLFA) under the Vietnam Union of Friendship Organisations (VUFO) organised a ceremony in Hanoi on November 28 to mark the 43rd anniversary of Lao National Day (December 2, 1975 – 2018).
VLFA President Tran Van Tuy at the event. (Photo: VNF)
Speaking at the event, VLFA President Tran Van Tuy highlighted the close-knit relations between the two countries during the past struggle for national independence as well as the present national construction and protection.
Based on successful outcomes of the Vietnam – Laos friendship and solidarity year 2017, the sides have implemented joint projects at national and local levels and expanded their people-to-people exchange, he added.
Tuy noted that bilateral engagements in education and training are a priority of the relations. Despite economic difficulties, the two governments have spent significant parts of their budgets on human resources training, with a large number of Lao students sent to study in Vietnam.
He said his association has worked closely with various educational establishments to support Lao students in Vietnam and have organised many activities for them, including cultural exchanges and musical and sport events.
The VLFA president urged the Lao students to make contributions to their home country and to the ties between the two countries.
For his part, Lao Ambassador to Vietnam Thongsavanh Phomvihane stressed the special relations between Laos and Vietnam have been continuously expanding over time.
He said Vietnam's development progress and increasing role at regional and international forums that he witnessed during his three-year tenure in the country is a source of encouragement for Lao people in building their country following the socialist orientation.
The Lao people will join hands with their Vietnamese friends to preserve and promote the relations, he pledged.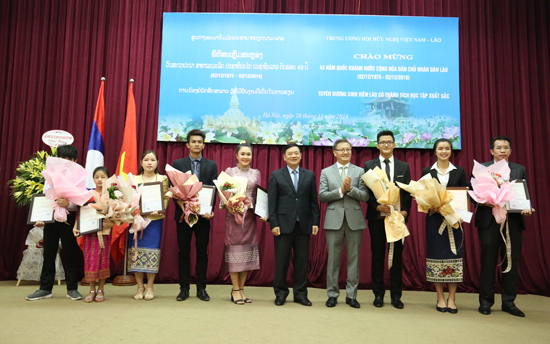 On the occasion, the VLFA presented certificates of merit and gifts for 16 Lao students with outstanding academic performance while studying in Vietnam.
"Through study and research, we have become more aware and touched about the special relationship between Laos and Vietnam," said Kiksanar Southammavon, a Lao student received the certificate of merit.
Awaring about the importance of education and training, on behalf of both countries' students, Kiksanar affirmed that they would strive to study well so that they can be successful in life and contribute to national development; and promote the traditional friendship, special solidarity, and comprehensive cooperation between the two countries.
On same day, the Ho Chi Minh City Union of Friendship Organisation (HUFO) held a ceremony to mark the Laos' National Day with the participantion of Lao Consul General to HCM City Somxay Sanamoune./.