The Vietnam Esperanto Association (VEA) contributes to promoting solidarity, amity and cooperation between the people of Vietnam and the rest of the globe.
The Vietnam Esperanto Association under the Vietnam Union of Friendship Organizations (VUFO) held a ceremony on May 8 in Hanoi to celebrate its 65th founding anniversary and opened the seventh Congress of the Vjetnama Esperantista Junulara Organizo (VEJO).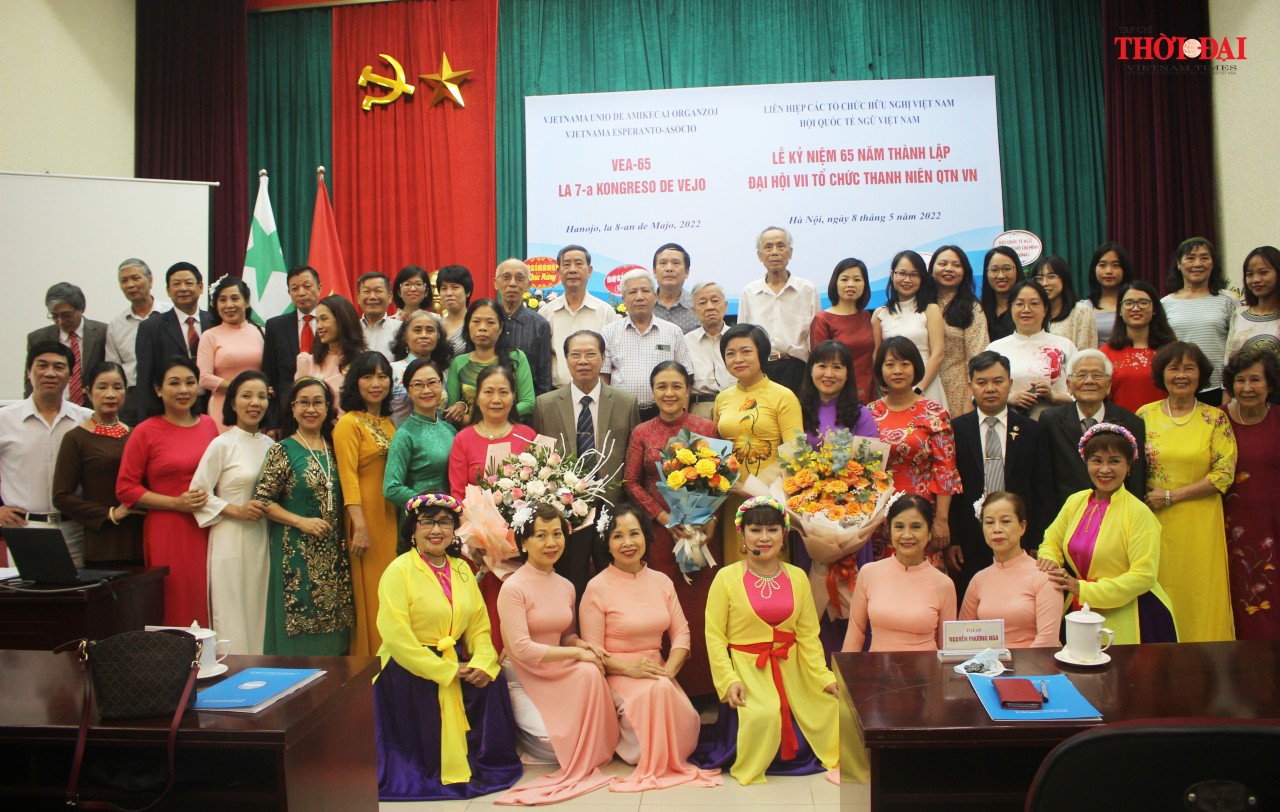 Delegates pose for memento pictures. (Photo: Vietnam Times)
Nguyen Phuong Nga, President of the Viet Nam Union of Friendship Organizations (VUFO), stated at the ceremony that the Vietnam Esperanto Association has actively taught, and propagated Esperanto for the past 65 years, growing the Esperanto movement among the younger generation. With 100 literature works, including Tales of Kieu by the great poet Nguyen Du, Diary of Dang Thuy Tram, Anthology of Vietnamese Literature, and other literary works, the Association has popularized Vietnamese literature to international friends through Esperanto.
Ms Nguyen Phuong Nga affirmed that VEA has made tangible contributions to the international Esperanto movement in the region and around the world, promoting solidarity, friendship, and cooperation between the Vietnamese people and people around the world, and raising Vietnam's prestige and international standing. Ms Nga also believes that the VEA would promote good tradition, innovate the content and mode of operation, have many rich and widespread activities, and make contributions to the world's development, thereby building a powerful, prosperous, and happy Vietnam. Moreover, VEA will fosters international friendship, solidarity, and collaboration between Vietnam and countries in the world.
At the celebration, Nguyen Van Loi, President of VEA, reviewed the Association's accomplishments over 65 years. He emphasized that the anniversary provides an opportunity for VEA to reflect on its founding, development and achievements.  It also honours worldwide friends who have stood by the Vietnamese Esperanto movement and commemorates Esperanto's founder. Furthermore, the ceremony provides an occasion to recognize collectives and individuals for remarkable achievements, as well as to organize meetings and exchanges amongst Esperantolist...
After the ceremony, the 7th Congress (2022-2024) of the Vjetnama Esperantista Junulara Organizo (VEJO) took place.
For the 2018-2022 term, VEJO consistently performs well on assigned tasks, contributing to the promotion of the international Esperanto movement in the country and the Asian Esperanto youth movement; propagating and enhancing the image of Vietnam as well as its people to international friends, particularly the world's youth.
The term 2022-2024 VEJO will continue to introduce and promote the image and people of Vietnam through Esperanto; strengthen the force of young people participating in the movement...
Ms Tran Thi Hoan was elected to hold the position of VEJO President for the term 2022-2024.
Ban TTĐN