Various policies designed to support COVID-19-hit businesses, labourers
Various policies issued by the Government, ministries, sectors and localities last week with an aim to supporting businesses and labourers affected by COVID-19.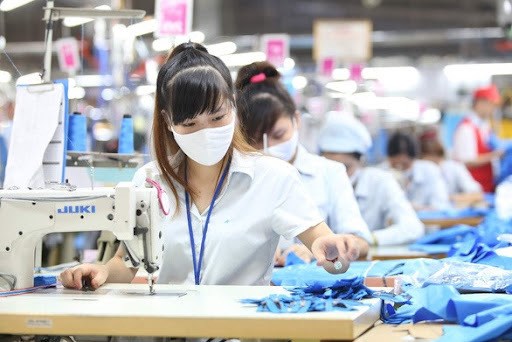 At an online meeting on September 25 with the Steering Committees for COVID-19 Prevention and Control of 705 districts and 63 cities and provinces nationwide, Prime Minister Pham Minh Chinh, head of the National Steering Committee for COVID-19 Prevention and Control said that the committee had adjusted the pandemic response strategy in the direction of safely, flexibly adapting to and effectively controlling COVID-19, implementing pandemic control and socio-economic development at the same time.

Last week, Deputy Prime Minister Le Van Thanh signed Directive 26/CT/TTg on promoting production, transport, selling and exporting of farm produce amid COVID-19, asking the Ministry of Agriculture and Rural Development to direct localities not to allow the disruption of agricultural production chains and ensure the supply of agricultural products for domestic demands and export in all circumstances.

Logistics vessels in Vung Tau have been allowed to carry supplies to fishing vessels operating offshore (Photo: VNA)
Meanwhile, Minister of Transport Nguyen Van The signed Directive 08/CT-BGTVT on strengthening transport activities to assist the selling of farm produce amid the pandemic, creating optimal conditions for the transport of goods and materials serving production among localities across the country.

At the same time, the General Department of State Reserve under the Ministry of Finance signed a contract to buy 75,400 tonnes of rice to support the needy in nine southern cities and provinces including Binh Duong, Vinh Long, Dong Thap, An Giang, Tien Giang, Kien Giang, Ca Mau, Can Tho and Ho Chi Minh City.

The State Bank of Vietnam also sent a document to credit organisations and branches of foreign banks in Vietnam, asking them to apply measures to support their COVID-19-hit customers in line with the regulations.

A virtual workplace platform named VCCI-Workplace was launched by the Business Cooperation Council in Response to COVID-19 under the Vietnam Chamber of Commerce and Industry (VCCI) to help enterprises in the fight against COVID-19 and resume production and business. Registration for the programme can be made at https://covid19.vcci.vn.

Alongside, many localities have also designed their own policies to support businesses and labourers affected by the pandemic./.
Q.Hoa t.h / TTXVN