Vietnam - Cuba Friendship Association bolsters bilateral ties
The fifth Congress of the Vietnam-Cuba Friendship Association (VCFA) for the 2020-2025 tenure was held on January 13. Politburo member, Secretary of Party Central Committee (PCC) and Head of the PCC's Commission for Mass Mobilisation Truong Thi Mai, was re-elected as President.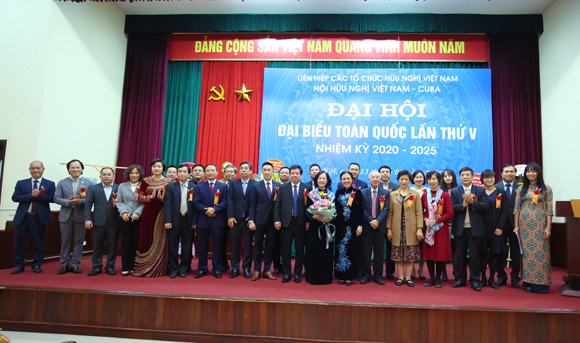 The congress elected a new executive board with 37 members. Photo: TV
During the 2013-2019 term, the VCFA maintained activities celebrating two countries' anniversaries, promoting images and information on the situation of Vietnam-Cuba relations, continuing to work closely with the Cuban Embassy in Vietnam and the Vietnam Union of Friendship Organizations (VUFO) to organize joint political activities.
The congress elected an executive board for the 2020-2025 tenure with 37 members, led by Truong Thi Mai, Politburo member, Secretary of Party Central Committee (PCC) and Head of the PCC's Commission for Mass Mobilisation.
Cuban Ambassador to Vietnam Lianys Torres Rivera said youth training is important to educating the young on the two nations' distinguished history, thus inspiring their sense of responsibility in protecting the everlasting values of independence and freedom that the previous generations sacrificed their lives to gain.
She asked the VCFA to push ahead with practical cooperation activities to increase two countries' youngsters mutual understanding.
The diplomat voiced her belief that the countries' solidarity, friendship and cooperation will be maintained as a precious asset of the two nations by present and future generations.
On behalf of the Executive Committee, VCFA President Truong Thi Mai emphasized the affection of the Vietnamese people for the Cuban people, adding that the association will carry out practical activities in the next term to increase Vietnamese people's understanding of the land, culture and people of Cuba as well as the friendship and solidarity between the two countries, as well as serve as a bridge to connect bilateral relations in economy, trade and culture.
Moreover, Vietnam will be the guest of honour at the International Havana Book Fair 2020, one of Cuba's most prominent cultural events, taking place from February 6 to 16.
A high-raking delegation led by Mai, included Vietnam-Cuba Friendship Association's members, will pay a visit to Cuba and participate in this significant event.
The fair will offer Cuban readers an opportunity to gain an overview of Vietnamese literature and understanding of the unique features of the Vietnamese culture as well as the Southeast Asian country's traditions and customs.
First held in 1982, the book fair initially ran as a biennial event, and from 2000 it began to take place annually. It is considered the most prominent publishing and literary festival in Cuba as well as in Latin America, attracting the participation of hundreds of publishers from around the world./.
T.h / VNF