Vietnams strives to secure vaccines for whole population
With the goal of putting people's health and lives above and first, the Vietnamese Government has been drastically carrying out the vaccine strategy, in which vaccine diplomacy is considered as a spearhead.
Currently, vaccines are considered the most effective measure to prevent and control the COVID-19 pandemic.

Vaccine diplomacy is a decisive factor for the success of the vaccine strategy which has been implemented methodically and drastically at various levels, especially at the high level. Vaccine diplomacy has become a focal content at working sessions, face-to-face or online talks, and overseas trips of Party and State leaders.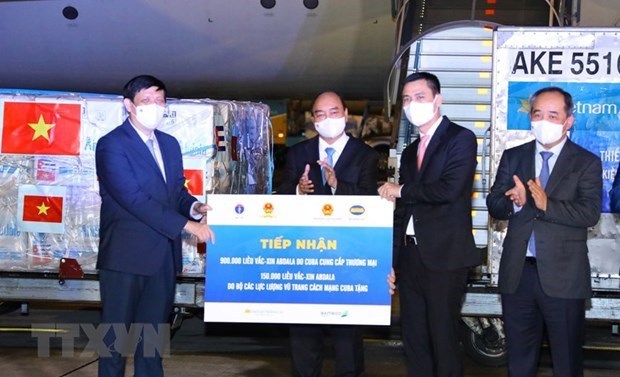 Vietnamese President Nguyen Xuan Phuc (second from left) witnesses the symbolic handover of 1 million doses of Cuba's COVID-19 vaccine from the foreign ministry to the health ministry at Noi Bai International Airport on September 25. (Photo: VNA)

The first step in realising the strategy is that the Government has decided to establish a COVID-19 vaccine fund to receive, manage and use domestic and foreign funding and contributions along with State budget resources to buy and import vaccines, research and produce vaccines domestically. As of October 3, the fund has received more than 8.69 trillion VND (382.54 million USD).

One of the urgent tasks in the implementation of the vaccine strategy is to get the fastest access to vaccine supplies along with finding partners for cooperation in the transfer of vaccine production technology. The whole political system has joined in efforts to secure vaccine sources, especially promoting vaccine diplomacy.
A health worker inoculates COVID-19 vaccine for a local resident. (Photo: VNA)
Prime Minister Pham Minh Chinh decided to set up a Government Working Group on vaccine diplomacy led by Minister of Foreign Affairs Bui Thanh Son.

In addition to creating all favourable conditions to accelerate research and production of vaccines domestically, it is necessary to promote vaccine diplomacy to quickly access and bring vaccines, medical equipment and COVID -19 treatment medicines to the country as much and as soon as possible, according to Son.

Vaccine diplomacy, especially high-level mobilisation, has yielded positive initial results over the past two months.

On the plane carrying President Nguyen Xuan Phuc after his official friendly visit to Cuba and attendance at the 76th session of the United Nations General Assembly, there were 1.05 million doses of Cuba's Abdala vaccine, 1,000 ventilators and medical equipment and supplies worth 8.8 million USD that overseas Vietnamese in the US and partners donated to the Vietnamese people.

Up to 1.05 million doses of Abdala COVID-19 vaccine, 1,000 ventilators and medical equipment worth 8.8 million USD that overseas Vietnamese in the United States and partners donate to people of Vietnam were transported to Vietnam on the plane carrying President Nguyen Xuan Phuc after his official visit to Cuba and attending the 76th session of the United National General Assembly.
President Nguyen Xuan Phuc visited Pfizer, one of the world's leading pharmaceutical and biotechnology corporations, on September 23 on the occasion of attending the high-level general debate of the 76th session of the United Nations General Assembly. (Photo: VNA).
Within the framework of the President's visit, countries and partners committed to grant and provide 1.5 million doses of COVID-19 vaccines to Vietnam. The US pledged to donate a large number of vaccines to Vietnam through the COVAX Facility.

Deputy Minister of Foreign Affairs Dang Hoang Giang said the most special thing of the visit was that the President's vaccine diplomacy was implemented very effectively, achieving many positive results. It reflected the great efforts of the President as well as the Government and relevant ministries and agencies.

Earlier, National Assembly Chairman Vuong Dinh Hue's visit to Europe also achieved practical outcomes with 200,000 doses of AstraZeneca vaccine donated by Belgium and Slovakia and hundreds of medical equipment worth more than 1 trillion VND (over 44 million USD) presented by organisations and individuals. The Vietnamese communities in Austria and the Czech Republic also handed over 365 million VND to Ho Chi Minh City and Vietnam's COVID-19 Prevention and Control Fund on this occasion.

In particular, a number of contracts on the transfer of PCR test kit production technology, cooperation in phase 3 clinical trials and vaccine production and order with a total value of 12.2 trillion VND were signed.

It can be said that the visits by President Nguyen Xuan Phuc and NA Chairman Vuong Dinh Hue were among the important highlights in vaccine diplomacy over the past time.
Along with high-level visits, the Party General Secretary, President, Chairman of the National Assembly, Government, and Prime Minister have directed and participated in this work through phone talks with senior leaders of many countries, requesting them to support the supply of vaccines for Vietnam.

Vietnamese representative agencies abroad have actively worked with partners for vaccine supply, and transfer of technologies to produce vaccines, medical equipment and medicines to treat COVID-19, thereby many new opportunities have been opened up.

As of October 3, a total number of 54 million doses of vaccines had been delivered to Vietnam along with many medical equipment, supplies and medicines to treat COVID-19./.
Q.Hoa t.h / TTXVN