29 foreign NGOs honored for their significant contributions to Vietnam's development
On December 12 in Hanoi, 29 foreign non-governmental organizations (NGOs) were honored and awarded the certificate of merit by the Committee for Foreign NGO Affairs (the Committee) for their outstanding contributions to Vietnam's socio-economic development in period 2014-2018.
Over the past five years, Vietnam has received effective support and cooperation of foreign NGOs in various fields. The Vietnamese Government and people always appreciate these contributions of foreign NGOs to Vietnam's sustainable development.
Speaking at the awarding ceremony, Mr. Bui Thanh Son, Deputy Minister of Foreign Affairs and also Chair of the Committee expressed his sincere thanks and high appreciation to the valuable assistance of foreign NGOs in Vietnam.
According to Mr. Son, there have been many changes in the operation of foreign NGOs in the past 5 years. Global economic difficulties and newly emerging humanitarian hot spots have changed the priority policy of major donors to development projects in Vietnam. Therefore, the Committee highly acknowledges the support and efforts of organizations in maintaining and innovating approaches, project implementation methods, increasing people's participation, and strengthening role of partners of Vietnam. Since then, improve the sustainability of the project.
Deputy Minister Bui Thanh Son said that in the coming time, there will be many difficulties and challenges, forcing Vietnam to rise strongly. In this process, there is a need for the cooperation of the international community, including foreign NGOs.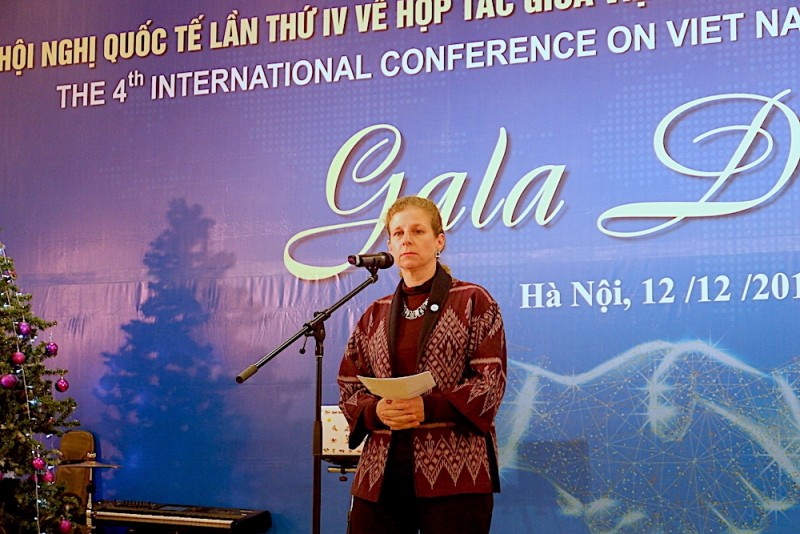 SNV Country Director in Vietnam, Ms. Alison Lucy Rusinow
On behalf of foreign NGOs in Vietnam, SNV Country Director, Ms. Alison Lucy Rusinow expressed her honor to be recognized for SNV's contribution to poverty reduction and sustainable development of Vietnam.
Ms. Alison said that she herself has been the representative of SNV in four countries, but none of the countries she has worked with have staff like PACCOM who support foreign NGOS in a very enthusiastic way. And nowhere else has she received the support like she received in Vietnam.
"In the coming time, I look forward to continuing to work with VUFO and COMINGO, to address the social and environmental challenges that Vietnam is facing," Ms. Alison emphasized.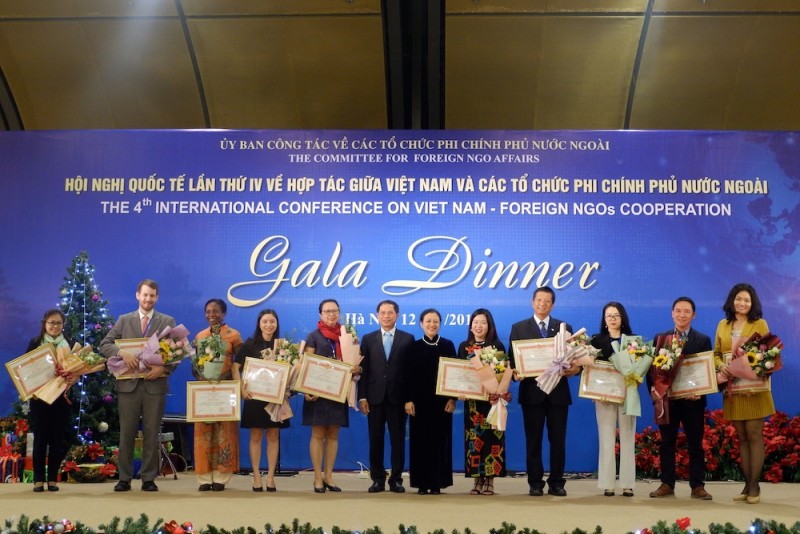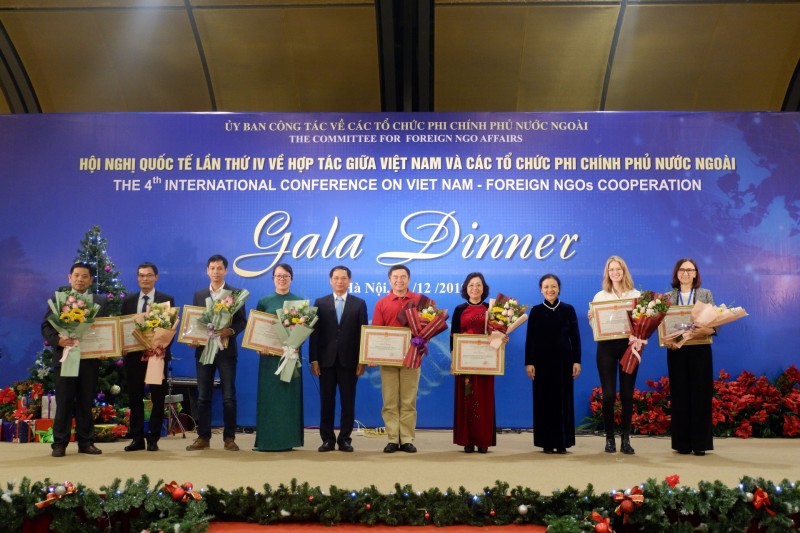 Representatives of FNGOs receive the certificate of merit and flowers
29 foreign NGOs honored by VUFO on December 12, 2019
Action Aid International (AAI), Action on Poverty (AOP), Asia Injury Prevention Foundation (AIPF), Buddhist Compassion Relief TZU CHI Foundation (Tzu Chi), ChildFund Australia (ChildFund), Children Action (CA), East Meets West Foundation (EMWF), English Language Institute in China (ELIC), Foundation for International Development Relief (FIDR), Giving It Back to Kids (GIBTK), Global Civic Sharing (GCS), Good Neighbors International (GNI), Maison Chance (MC), Marie Stopes International (MSI), Medical Committee Netherlands-Vietnam (MCNV), Mines Advisory Group (MAG), Nertherlands Development Organization (SNV), Norwegian People's Aid (NPA), PATH, Plan International (Plan), Project Orbis, Inc. (Orbis), Resource Exchange International, Inc (REI-VN), Room to Read (RtR), Rosa Luxembourg Foundation (RLS), Save the Children International (SCI), The Dariu Foundation (Dairu), The International Center (IC), World Wide Fund for Nature (WWF), Zhi Shan Foundation (Zhi Shan).
T.h / VNF