Dong Nai Province Set to Boost Cultural Exchanges
Dong Nai strengthens solidarity and friendship with people of other countries through cultural exchanges
In 2022, the Union of Friendship Organizations of the southern province of Dong Nai (DUFO) aims to mobilize foreign non-governmental aid (NGO) with high efficiency, the value of commitment to sponsor NGO projects achieve and exceed 5% compared to 2021.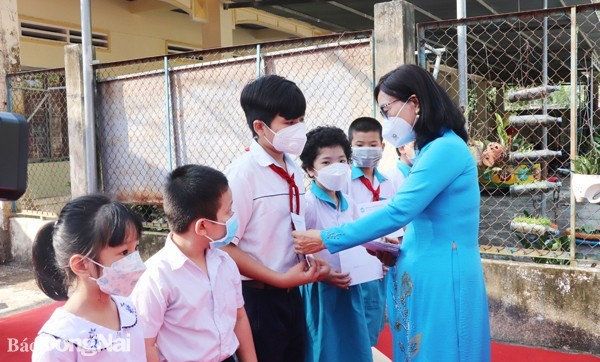 Bui Thi Lieu, vice president of Dong Nai Union awarded scholarships to H.Long Thanh students. Photo: Dong Nai Newspaper
The Dong Nai Provincial People's Committee on January 12 issued the provincial People's External Relations Program in 2022. DUFO President Nguyen Thanh Tri said that the program was issued immediately after Directive 12, creating favorable conditions for Dong Nai's people-to-people diplomacy.
From this program, Dong Nai Friendship Union has developed an implementation plan including four major contents: implementation, mastery, implementation of Directive 12; peace, solidarity and friendship work; non-governmental organization work; people's external information work, with 28 key activities.
Each activity will be concretized by DUFO and its member associations with separate plans to ensure on schedule and efficiency.
In particular, for people's external information work, DUFO will organize a conference to share experiences in people-to-people diplomacy between the Southeast provinces; coordinate to hold seminars and conferences updating general knowledge about people's foreign affairs work..
DUFO also plans to conduct many cultural exchange activities on a larger scale, including the musical program of Friendship Melodies in the Southeast region with consulates of other countries. The program will include three main contents with the main highlight being a concert combining cultural and artistic exchanges with consulates of other countries in Ho Chi Minh City.
Cultural and artistic activities are expected to attract a large number of students. This is also the object that DUFO is interested in in rallying the masses to participate in people-to-people diplomacy. With the trend of "global citizenship", the youth has many advantages and opportunities to introduce and promote Vietnamese culture, cultivate friendship between Vietnam and countries around the world.
For foreign non-governmental aid advocacy, taking advantage of the strength of the industrial province, DUFO will actively mobilize foreign direct investment (FDI) enterprises to engage in social responsibility; organize and participate in promotion campaigns along with meetings and through information channels to attract non-governmental organization aid resources for social security.
Previously, in 2021, despite many difficulties due to the Covid-19 pandemic, Dong Nai was still in the top of the country in people-to-people diplomacy. DUFO and its member associations have successfully organized many cultural events such as the second Dong Nai Friendship Melodies Festival; contest to design bilingual communication products about provincial history, culture, land and people; Vietnam - France Friendship painting competition; painting contest about Vietnam and Japan ties. Particularly, the Vietnam-Japan painting contest took place while Dong Nai was implementing social distancing, but there were more than 1,500 works submitted.
Effectively organized cultural exchange activities have contributed to strengthening the solidarity and friendship between the people of Dong Nai and people of other countries, and at the same time contributed to enhancing the "soft power" of the country.
Q.Hoa t.h / Thoidai