Celebrating Years of Vietnam-Cambodia Relations
The Vietnam-Cambodia Friendship Association in Can Tho city has activities fostering the friendship, solidarity and comprehensive cooperation between the two countries.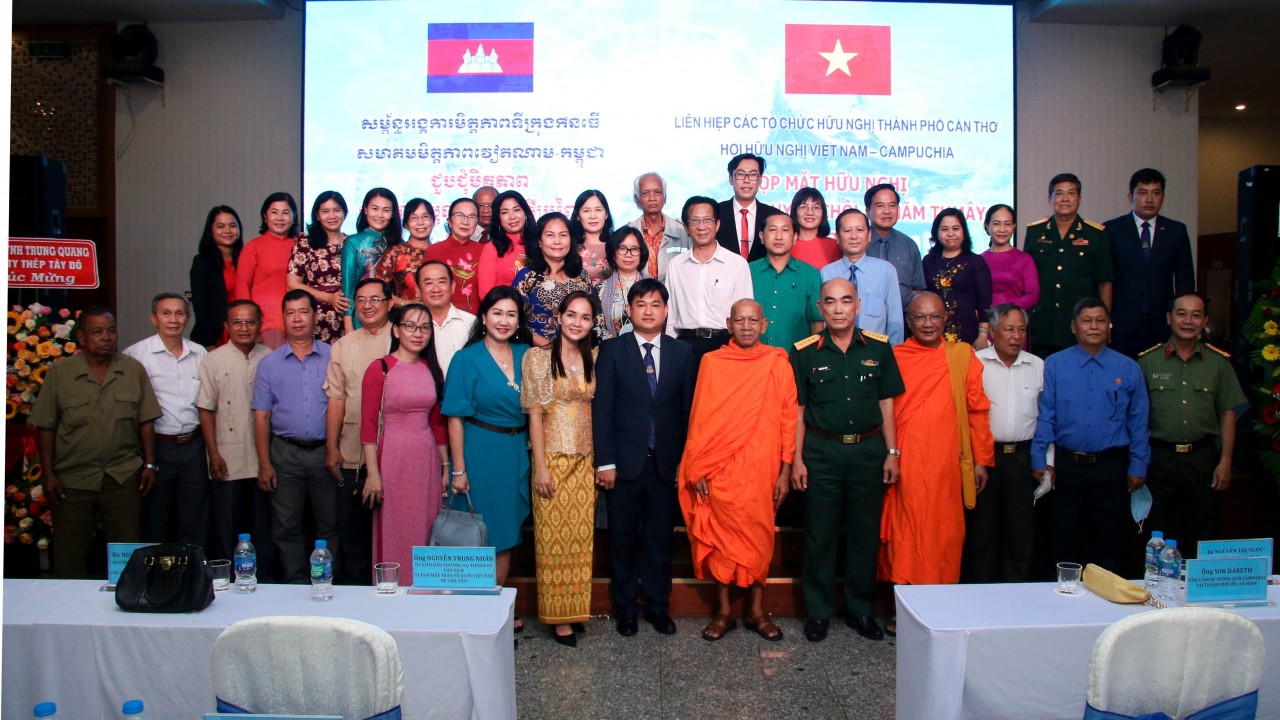 On the Chol Chnam Thmay Festival of the Khmer ethnic group celebrated the new year, on the afternoon of April 1, the Can Tho Union of Friendship Organizations and the Vietnam-Cambodia Friendship Association of the city held a meeting. Participants are ethnic Khmer in the Vietnam-Cambodia Friendship Association in Can Tho city and Cambodian students studying at universities in the area.
2022 is a special year in the traditional friendship between the two countries, celebrating the 55th anniversary of the establishment of diplomatic relations between Vietnam and Cambodia (June 24, 1967-24 June 2022). Can Tho city will organize commemorative activities during the year.
According to Nguyen Van Can, chairman of the friendship association, highlights are activities such as commemorative meetings; food-art-sport exchanges between Cambodian students and students in Can Tho city; seminar on Vietnam-Cambodia friendship; contests about the history of friendship between the two countries.
The activities contribute to maintaining and developing the relationship, and comprehensive cooperation between Vietnam and Cambodia. They also provide extensive information to people, especially the younger generation, about the meaning and importance of preserving, consolidating and developing Vietnam-Cambodia relations in the new situation.
The Association also strengthens people-to-people exchange programs and social security activities for Cambodian people. They also developed a successful relationship between Can Tho city and the two provinces of Kompong Chhnang and Battampang; continue to expand and develop more branches and members.
Many peace, solidarity and friendship activities have taken place in recent years, such as communicating about the traditional lifestyle of friendship and cooperation between the Governments and peoples of countries, especially about the ASEAN community.
Speaking at the meeting, Cambodian Consul General in HCM City Sok Dareth appreciated the role of the Union of Friendship Organizations in Can Tho City. This is reflected in contributing to people-to-people diplomacy, attracting investors, strengthening trade, building and developing, protecting the country.
During the Covid-19 outbreak, many humanitarian organizations provided medical equipment and supplies to the frontline, helping the poor, and supporting Cambodian students in difficult circumstances.
The Consulate General of Cambodia in Ho Chi Minh City will make efforts to strengthen relations and cooperation with Can Tho city.
Consul General Sok Dareth also expressed his hope that the connections between Can Tho and Phnom Penh capital, Battambang, and other localities and agencies of Cambodia will continue for many years to come.
Q.Hoa t.h / Thoidai