Fashion Event Highlights Indonesia's Batik and Vietnam's Ao Dai
A fashion show presenting a special Ao Dai, made from Indonesian Batik fabric, was held on April 3 in Ho Chi Minh City.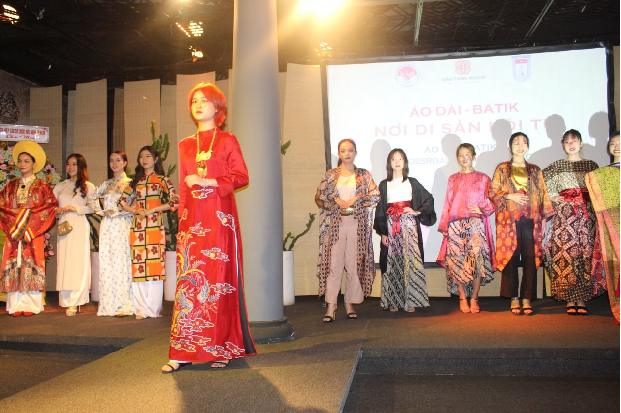 Art and culture have always brought people together and created abiding friendships amongst nations. Source: HUFO
The Ho Chi Minh City Union of Friendship Organizations (HUFO), Indonesian Consulate General in Ho Chi Minh City cooperated with Ho Chi Minh City Museum of Ao Dai to organized a cultural exchange and performance program titled "Ao Dai - Batik, where heritage converges".
The program aims to introduce Batik fabric and Vietnamese ao dai, create opportunities to learn and improve understanding of the culture and traditions of the two peoples, thereby cultivating the friendship between the two countries, promoting the peace, prosperity and development of ASEAN and the world.
The event was attended by Agustiaviano Sofjan, consul general of Indonesia in Ho Chi Minh City; Pham Dot Diem, deputy director of the city's Department of Foreign Affairs; Le Truong Hien Hoa, deputy director Ho Chi Minh City Department of Tourism; Do Viet Ha, HUFO president; Huynh Ngoc Van, director of Museum of Ao Dai and Batik artisan Venny Afwani Alamsyah.
"Batik is considered a craft art that has become popular and famous around the globe. In Indonesia, batik is part of an ancient tradition, which is kept to this day. Usually in Indonesia, every friday people will wear batik when participating in community activities. Today, batik is improved according to new fashion trends and styles, so batik can be used in any situation," said Agustaviano Sofjan, consul general of Indonesia in Ho Chi Minh City.
Vietnamese ao dai with phoenix pattern sewn on Indonesian batik fabric also became another highlight in the program.
At the event, the participants were introduced to the traditional cultural meanings of Ao Dai and Batik fabric, watched fashion shows of Ao Dai, Batik clothing, including some ao dai made in the style of batik, and finally tried their hand at Batik-making, guided by artisan Alamsyah.
She has more than 20 years of experience in transferring and sharing her knowledge of batik and traditional Indonesian textile products to more than 112 countries.
In 2009, Indonesian batik was inscribed on UNESCO's Representative List of the Intangible Cultural Heritage of Humanity. For Indonesians, batik is not only an art but also a cultural symbol that can represent social status, local community, nature, history, and cultural heritage. Batik is intertwined with the cultural identity of the Indonesian people.
The physical aspect of batik (its techniques) as well as the symbolism behind this hand-dyed cotton and silk garment tells the story of Indonesian people from beginning to end.
Batik is made by a resist technique, where we use hot wax in creating patterns and designs to prevent them from absorbing color when the cloth is dyed. The hot wax is applied with a pen-like tool named canting. In Indonesia, the craft of batik is usually handed down within families for generations.
Indonesia and Vietnam share rich heritage from their multi-ethics societies which are reflected in the inheritance of traditional clothes and fabrics.
Q.Hoa t.h / Thoidai