Million US Dollar Project to Promote Community-based Care for the Elderly in Vietnam
The World Bank and partners on Sep. 29 launched a project aiming to reduce economic and health vulnerability of older persons in Vietnam, under a US$ 2.75-million grant, funded by the Government of Japan and administered by the World Bank.
The launching ceremony of the project "Reducing income and health related vulnerability of older persons in Vietnam" took place in Hanoi on Sep. 29, organized by HelpAge International in Vietnam.
The 4-year project, was funded by the Government of Japan, through the Japan Social Development Fund, entrusted through the World Bank in Vietnam.
The project is implemented in six provinces/cities including Hoa Binh, Thanh Hoa, Quang Binh, Da Nang, Khanh Hoa and Ninh Thuan, by HelpAge International in Vietnam in collaboration with the associations/representative board of the elderly of six provinces/ cities mentioned above and technical support from the Vietnam Association of Vietnam.
It is expected that 27,000 people will benefit from the project, most of them (70%) are older persons and disadvantaged people.
A core activity of the project is to expand the Intergenerational Self-Help Club (ISHC) network through building at least 180 new clubs. This model, first implemented in Vietnam in 2006 and whose effectiveness has been recognized by the government and included in national policies, adopts a holistic approach to meet the multiple needs of older persons.
These self-managed clubs, which host 50-70 members, runs a variety of inter-generational activities to help members boost incomes, improve physical and mental wellbeing, and know their rights. A network of volunteers, also offers homecare services who are largely housebound including social care, personal care and related care.
"The model, by its name, is bringing generations together, closing the gap of age differences," said Takaya Shimizu, First Secretary of Japan Embassy to Vietnam. "And more importantly, with the "self-help" characteristic the model helps community to help themselves in terms of social bonding, income security or health and care."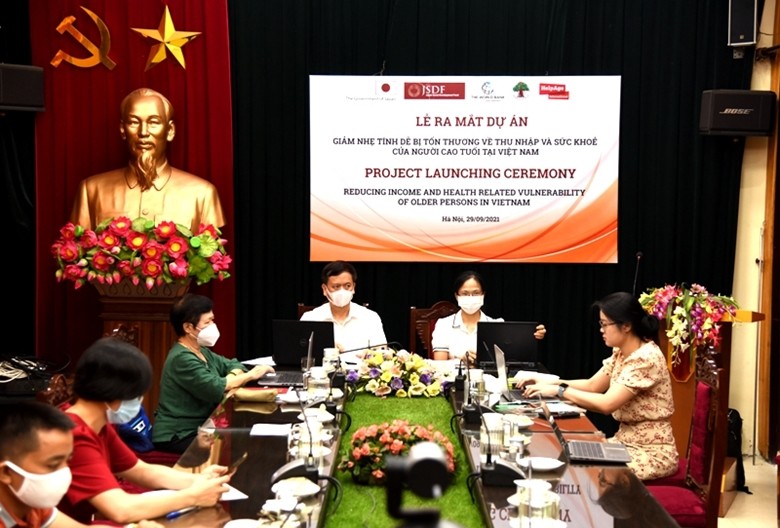 At the launching ceremony in Hanoi. Source: CPV
This event aimed to provide an overview of the main activities and model of the ISHC; and the necessity of it in supporting Vietnam in implementing Decision 1336/QD-TTg of the Prime Minister on replicating the model of ISHCs in 2025. At the same time, this is also an opportunity to build and strengthen connections with stakeholders involved in the implementation of the project.
As of now, 3,500 ISHCs have been established covering 61 out of the 63 provinces in Vietnam but quality and coverage varies. The innovation of this project, which will run until September 2024, is that it will help fill some of these gaps and also facilitate better linkage with Government service providers.
HelpAge International in Vietnam, which implements the project, is an international NGO with 10-year experience in advocacy, training, campaign and intervention in older person issues, aging adaptation, and community development.
"As one of the most rapidly aging countries in the world which will see the 65+ age group increase by 2.5 times by 2050, Vietnam needs a different approach to make health and social care systems fit for a growing older population," said Carolyn Turk, WB country director for Vietnam. "We are pleased to support Vietnam in putting in place innovative, cost-effective and affordable interventions to provide long-term senior care."
The launching event also coincided with the upcoming International Day of Older Persons (Oct. 1) and Vietnam's Action Month for the Elderly.
October was selected as the Action Month for the Elderly to remind society about providing care for senior citizens and upholding their role. With a different theme each year, the month focuses on pooling resources to care for the elderly, holding cultural-art-sports activities and contributing to improving their material and spiritual lives.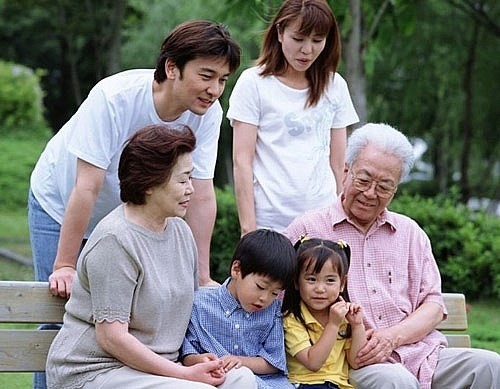 Illustrative image. Photo: VNA
According to datas, Vietnam has one of the most rapidly aging populations in the world. By 2049, nearly one quarter of the population will be aged 60 and older. In 2019, the ratio of working-age people to older persons is about 9 to 1, but by 2049 this ratio will fall to only 4 to 1. Currently, there are about 11.7 million persons aged 60 and older, but by 2049 this number will reach nearly 25 million, of whom nearly 4 million will be aged 80 and older.
About 39.1% of older persons are still working, of whom the majority are in government jobs (56.8%), followed by self-employed agricultural occupations (22.6%), cited statistics in this paragraph are all from the Vietnam Aging Survey 2011.
Among those not working, poor health is cited by a large share of people (39.4% in the age group 60-69, rising to 54.7% in the 80+ age group) as the reason. The main sources of financial support reported by older persons are their children (31.9%), work-related income (29.4%), pensions (16.1%), and social allowances (9.4%). A relatively large share of the elderly (aged 60 and older) report that their financial resources are "insufficient" (26.2%) or "sometimes insufficient" (36.2%) for daily needs. 17.2% of older persons report living in poor households, with only about 30% reporting that they receive social allowance payments and 3.7% reporting that they receive a pension.
Q.Hoa t.h/Thoidai