Poor People Nationwide Presented Pre-Lunar New Year Gifts
The provincial friendship association and international organizations made efforts to bring Lunar New Year happiness to poor people.
The provincial friendship association and international organizations have coordinated with relevant authorities to promptly presented Lunar New Year (Tet) gifts to poor households and workers hit by Covid-19 in the hope of bringing them a happier holiday.
The Women's Union of Ho Chi Minh City, the city's Vietnam-Cuba Friendship Association and the Intellectual Women's Union on Jan. 15 organized a program to give gifts to policy beneficiaries, poor households, and disadvantaged women in Can Gio district, ahead of the Lunar New Year in 2022.
Each gift is worth VND 700,000 and the total value of the program's gifts is VND 210 million (USD 9.200). At the same time, the program presented gift packages to four units of the Border Guard in Can Gio district.
According to chairwoman of the HCM City Women's Union Nguyen Tran Phuong Tran, the gifts are given as encouragement and sharing for everyone to overcome difficulties and hardships in daily life, especially in the Covid-19 pandemic. Complicated developments greatly affected the lives of people in Can Gio district.
"The Spring Festival of Love and Gratitude Program is an annual activity, especially this year we pay more attention to the orphaned children, or both parents affected by Covid-19. Today, we visited and presented Can Gio district with 300 gifts, and wish people a warm and happy spring", Tran shared.
Pham Thi Ngoc Tham, a local living in An Thoi Dong commune, expressed her gratitude to the city government and benefactors for taking care of women in hamlets and communes whose lives are very difficult.
Meanwhile, UN Women on Jan.16 has distributed 500 essential packages (worth VND 500 million or USD 21.997) in combination with a communication session on gender-based violence to 500 women in Thai Binh province.
These are migrant workers who are facing difficulties due to the Covid-19 pandemic and are also at high risk of gender-based violence. The distribution of essential packages was organized by UN Women in collaboration with the Thai Binh Women's Union.
The activity is part of the Safe and Fair program aimed at eliminating violence against migrant women in the ASEAN region, funded by the European Union.
From Jan. 13 to 19, the Korea International Cooperation Agency (KOICA) Vietnam Office coordinated with the Women's Union to donate daily necessities worth VND 1 million (USD 43) each to a total of 1,472 female workers in Quang Tri and Thua Thien Hue provinces.
This support activity is part of the "Establishment of the 2021-2030 comprehensive social housing policy in Vietnam" project. The beneficiaries are 4,400 female industrial park workers and vulnerable, low-income women, who have been heavily affected by the blockade and lost their jobs due to the impact of Covid-19 in Vietnam.
KOICA Vietnam Office had carried out activities in Quang Binh province from Dec. 27 to 28; and by the end of January 2022, it planned to support women in social housing and resettlement areas in Thanh Hoa, Nghe An, and Ha Tinh provinces.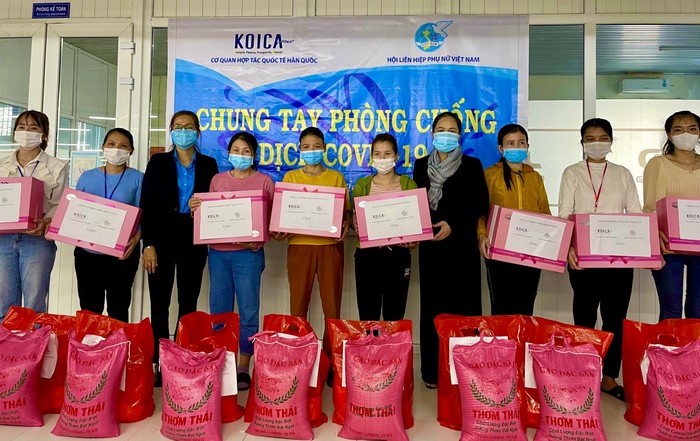 The above-mentioned activities have practical significance, bringing the warm affection to the female workers on the threshold of the new year.
While in Quang Tri province, the members of Norwegian People's Aid/Project RENEW (NPA/RENEW) Workers' Union on Jan. 14 paid a visit to a family of disabled persons in A Doi Commune, Huong Hoa District.
The family of Le Thi Hanh in Dong Tam Village, adjacent to the border with Laos, has a second son, born in 2009, who suffers from severe mental and physical disabilities.
Hanh has to stay at home looking after the bedridden child. Their family income now relies on their father who works in Hanoi.
Giving Hanh a gift of VND 2 million – an award from the Emerald Virtual Run sponsored by the Irish Embassy in Vietnam to the runners of RENEW, the workers' union hopes that Hanh will have additional money to prepare for the upcoming Lunar New Year holiday.
Q.Hoa t.h / Thoidai