NGO continues delivery of emergency assistance in Quang Binh
The Samaritan's Purse International Relief (SPIR) of the United State and the Union of Friendship Organizations of Quang Binh Province have joined hands with the people in the central Quang Binh province to overcome difficulties caused by natural disasters and floods.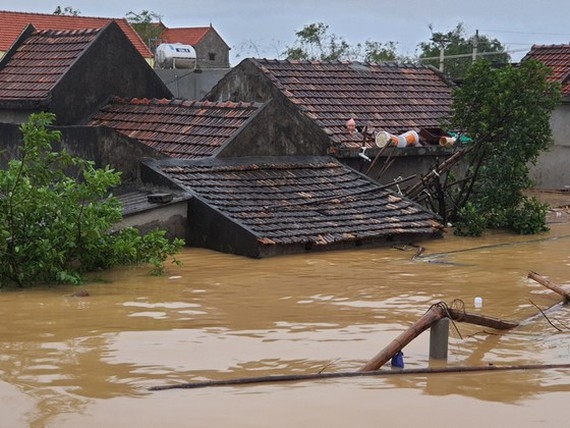 Waist-deep flood inundates houses in Quang Binh Province. Source: SGGP
With the permission of the Provincial People's Committee in Decision No. 4883 / QD-UBND dated December 24, 2020 on approving and receiving foreign non-governmental aid (FNG) in the form of non-projects supporting disaster recovery for people in Quang Binh province sponsored by the Samaritan's Purse International Relief (SPIR).
On January 7, the Quang Binh Union of Friendship Organizations in collaboration with the Samaritan's Purse International Relief deliveried 1.050 aid packages to people in communes of Quang Minh, Quang Loc, Quang Trung in Ba Don Town.
Each gift package includes kitchen utensils such as pots, pans, mosquito nets, blankets, water tanks, towels, dishwashing, detergent, soap, toothbrush, toothpaste and sanitary pads.
The total value of support package is over VND 1.26 billion (USD 54,600).
This is the second delivery of emergency assistance of SPI. The first time SPIR has supported Duy Ninh, Ham Ninh and Van Ninh communes of Quang Ninh district with a total value of over VND 1.28 billion (USD 55,817).
Samaritan's Purse International Relief (SPIR) is a Christian nonprofit organization providing aid to hurting people around the world. With a 22 year history working in Vietnam, SPIR has developed strong relationships with partners to conduct projects in five sectors health, education, protection, livelihood and relief.
SPIR Vietnam's projects are being implemented in Hanoi, Quang Nam, the central province of Vietnam and across the northern provinces of Lao Cai, Yen Bai and Lai Chau where the majority of people are from ethnic minority groups, often the most vulnerable or marginalized sections of the population.
Quang Binh is one of the worst-affected province in the last year storms and floods./.
Thoidai.com.vn