Vietnam-France Friendship Association supports reading room project in Vinh Long
Recently, through the support of the Vietnam-France Friendship Association, the Red Cross Society in the Mekong Delta province of Vinh Long province mobilized more than VND 80 million (USD 3.400) to support the reading room for Luc Si Thanh A Primary School (Tra On) and the Binh Phuoc C Primary School (Mang Thit).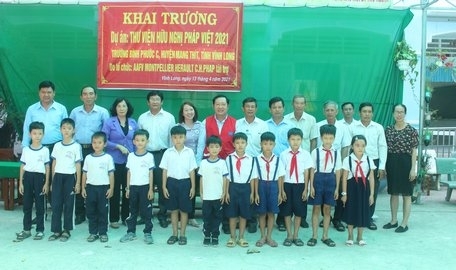 The Vietnam-France Friendship Association under the Vietnam Union of Friendship Organizations (VUFO) supports reading room project in Vinh Long.
Pham Van Be Ba - Principal of Luc Thanh A Primary School said that they has three satellite schools with 562 students and only one library is located at the main school, the two others have to rotate books every month.
The facilities, teaching equipment and books for students are lacking, not meeting the minimum requirements for the school activities. "The school had received bookshelves and bookcases. This meaningful gift will help students cultivate their knowledge and form a reading culture," shared Ba.
According to Nguyen Thi Kim Anh - Chairman of the provincial Red Cross Society, from 2020 up to now, the the Vietnam-France Friendship Association has mobilized fund for four reading rooms for students in remote areas. The equipment and books for schools will create a useful playground to attract students to come after school, improve their knowledge, and learn about the world around them.
"And especially, through the reading room, we also want to form a reading habit for children, to foster positive thinking in the students. It is important that the role of the teacher, in addition to creating conditions for children to come to the reading room, must also be the instructor, the person who leads them to reading habits," Anh stressed.
Before that, there were many proposals for creating a culture of reading across the province such as: the book festival of Huynh Van The, a teacher in Mang Thit, the book club at school of teacher Tran Huynh Nhi from Vinh Long, reading culture sessions throughout remote schools, etc.
The projects have brought more opportunities for elementary school students in the rural areas to have access to books, thereby helping them to understand the values ​​of reading and motivate them explore good book titles. In 2020, the Provincial Library had served 1.6 million readers (an increase of 68% compared to 2019).
The library organized the rotation of 66,000 books to 169 points, enhancing information resources for district, commune libraries, agencies, departments and branches. Making additional lists of 3,712 books, the total number of documents is 84,229 with 224,120 copies; on average, each district added 431 types of newspapers and magazines./.
Thoidai