PM receives President of France-Vietnam Friendship Association
Prime Minister Pham Minh Chinh received a delegation of the France-Vietnam Friendship Association (AAFV) led by its President Gérard Daviot on November 5 (local time) during the PM's official visit to France.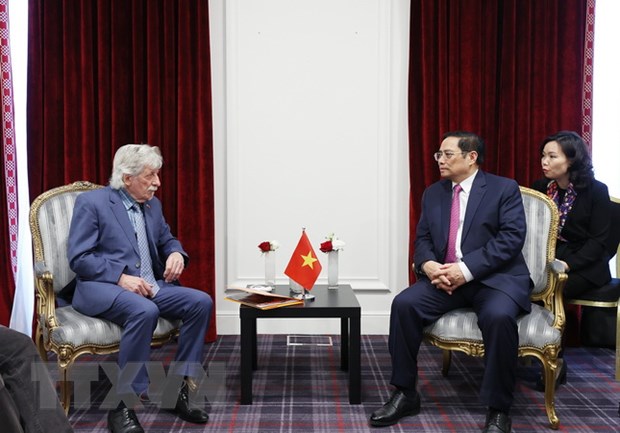 Prime Minister Pham Minh Chinh (R) receives President of the France-Vietnam Friendship Association (AAFV) Gérard Daviot (Photo: VNA)
PM Chinh welcomed the AAFV's pillar role among organisations fostering solidarity and cooperation between Vietnam and France, and highly valued the association's contributions to strengthening friendship and cooperation between people of the two countries.

He expressed his thanks to leaders and members of the association for their contributions and support for Vietnam over the past decades, stressing that the Vietnamese people always treasure and never forget the precious sentiments and assistance. 

The AAFV's projects and activities will be welcomed and fostered in Vietnam, he affirmed.

Chinh believed that the association will continue to uphold its role and further contribute to the Vietnam-France strategic partnership as well as the close-knit relations between the two countries' governments and people.

Daviot briefed PM Chinh on the AAFV'S activities since its establishment, and support for Vietnam's struggle for independence in the past and national construction and safeguarding at present. 

The AAFV has been rolling out activities to enhance friendship and solidarity with Vietnam, he said, affirming that the association will step up a myriad of activities with Vietnam in the time to come, including support and assistance for Agent Orange/dioxin victims, the country's COVID-19 fight, climate change adaptation and human resources training for development./.
Q.Hoa t.h / VNA