People-to-people Diplomacy: Adaptable for Covid Era
In a year marred by pandemics and lockdowns, the Vietnam Union of Friendship Organizations (VUFO) and its member organizations have attempted to find new approaches performing activities. That quick and flexible adaption has created positive results and strengthened the bravery of the nation's system specializing in people-to-people diplomacy.
Technology Applying
VUFO has held and joined over 160 regional and international meetings, seminars, conferences through virtual form since the beginning of 2021. Some of the most notable events are the special meeting among leaders of friendship organizations between ASEAN countries and China, the Communist Party of China's 100th anniversary summit, Shanghai dialogue, World Conference Against A and H Bombs, and the World Esperanto Congress.
Notably, VUFO and its member organizations have exchanged more than 87 telegrams, letters, and flowers with their partners. And, a Memorandum of Understanding with Uzbekistan's Committee of the Interethnic Relations and Friendly Cooperation with Foreign Countries was signed.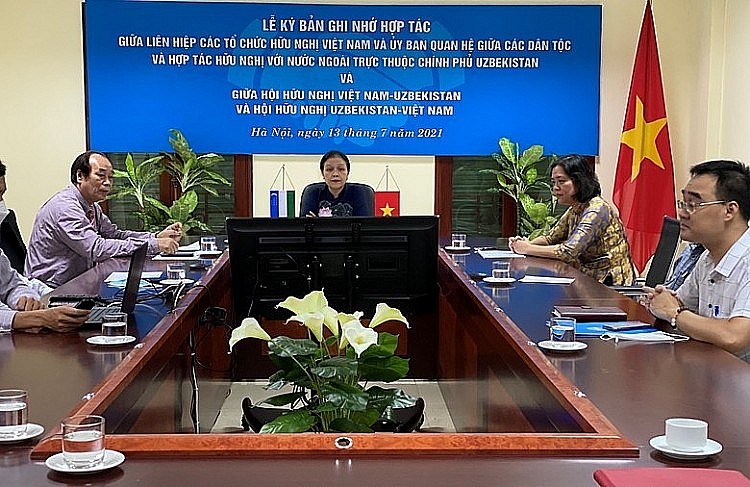 VUFO signed a online Memorandum of Understanding with Uzbekistan's Committee of the Interethnic Relations and Friendly Cooperation with Foreign Countries on July 13,2021.
Thanks to applying modern technology, VUFO and its member organizations have proactively established relations with new partners, including the Peace and Planet Network, and a number of member organizations of the Non-Government Group within the framework of the United Nations Economic and Social Council.
Continuing to support international friends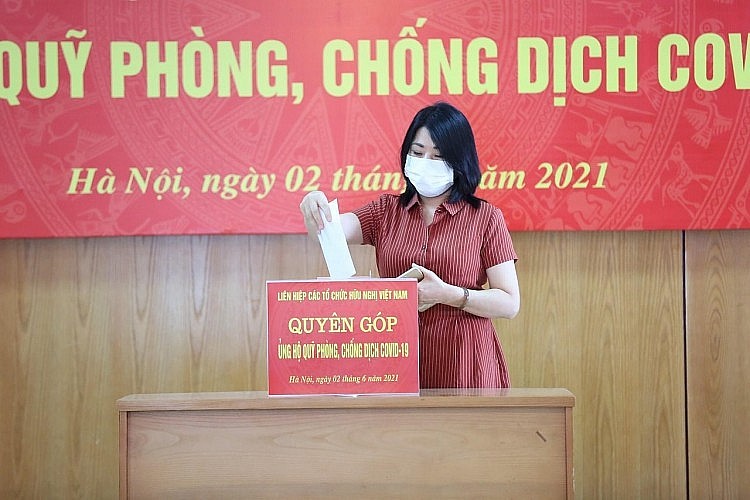 VUFO's staff and departments contributed to Vietnam's Covid fund.
In the spirit of supporting and sharing with international friends, VUFO has implemented an initiative to support expats in the fight against Covid-19 in Vietnam since the beginning of the year. VUFO and its member organizations have mobilized nearly VND 19 billion (more than US$ 820.000) to support the people of other countries to cope with the pandemic.
Through online meetings, VUFO's member organizations have established contact points, issued documents to launch movements and call for donations. Among those friendship organizations, the Vietnam - Italy, Vietnam - Cuba; Vietnam - Laos, Vietnam - USA, Vietnam - Czech Republic, Vietnam - Romania, Vietnam - India, Vietnam - Cambodia, Vietnam - France, Vietnam - UK, Vietnam - Spain and friendship organizations in localities such as Hanoi, Ho Chi Minh City, Dong Nai have held outstanding activities.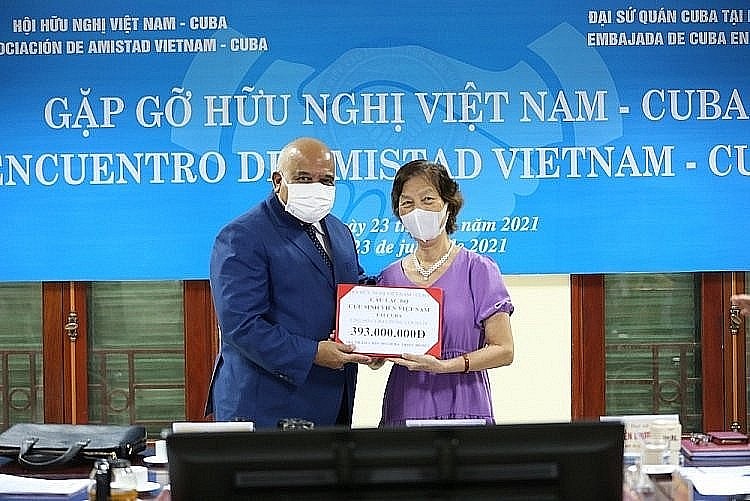 Through the Cuban Embassy to Vietnam, Club of Vietnamese alumni in Cuba under the Vietnam - Cuba Friendship Association donated VND 393 million (US$ 17.000) to Cuban residents in the fight against the pandemic.
Countries and people in need of support are analyzed to be provided with the most appropriate and useful gifts. For example, some countries are in need of masks, some need antiseptic solutions, some partners want testing tools, some can only receive cash. Meanwhile, foreigners in Vietnam need to be supported with food. The means of transportation and donation are also arranged flexibly and in accordance with actual conditions. Gifts are transferred through embassies, friendship associations, or other channels and means.
VUFO has coordinated with central and local health facilities to vaccinate more than 2,500 NGO staff in Vietnam.
Effective calling for foreign non-governmental aid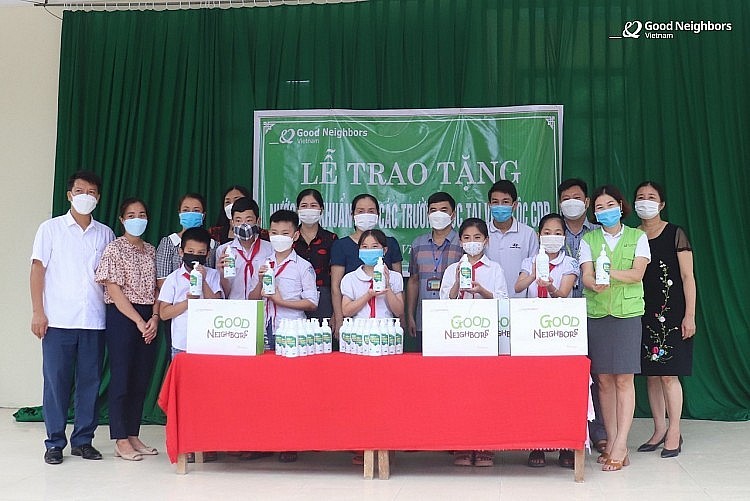 Good Neighbors Vietnam cooperated with Vinh Loc District Education Department (Thanh Hoa) to donate 1,000 bottles of antiseptic water to 19 schools in the district on Sep. 21 - 22. (Photo: GNI)
According to the 9-month report of the People's Aid Coordinating Committee (PACCOM), more than 50 foreign NGOs have donated nearly 100 aid contents with a total estimated value of over US$ 6 million to Vietnam. VUFO also mobilizes other international partners to support the Vietnamese people to fight coronavirus. The total donation value has so far reached more than VND 150.6 billion (US$ 6,5 million).
Active connecting and informing international friends
VUFO has directed and guided specialized departments and units in the standing agency and member organizations to connect, visit, encourage and inform international friends about Vietnam's Covid prevention results and experience. It has guided the organization of donations for the Vietnamese residents, expats, and overseas Vietnamese.
It has conducted communication activities through technological means, its press system in foreign languages, and international press. Those activities include regularly publishing news about fundraising activities and contributions to pandemic prevention.
Q.Hoa t.h / Thoidai