Survey reflects public trust, confidence in Government's responses to COVID-19
A webinar which reveals findings from the second round phone-based sociological survey entitled "Citizens' Opinions of and Experiences with Government Responses to COVID-19 Pandemic in Vietnam" was held by the United Nations Development Programme (UNDP) on December 7.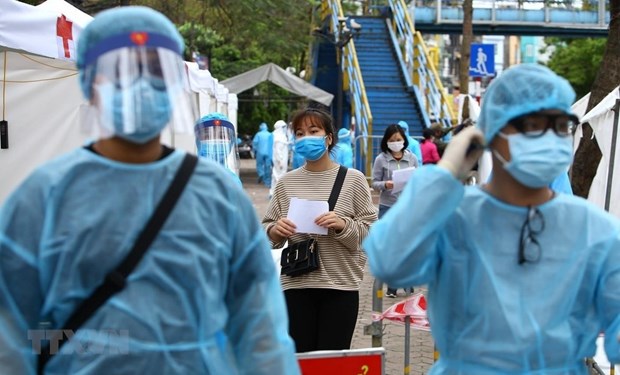 Medical workers amid the COVID-19 fight (Photo: VNA)
Using the Computer Assisted Telephone Interviews (CATI) method, this intensive telephone survey was conducted in about one month, with the participation of 1,501 respondents randomly selected from the 2019 population sample of the Vietnam Provincial Governance and Public Administration Performance Index (PAPI).

In her opening remarks, UNDP Resident Representative in Vietnam Caitlin Wiesen highlighted Vietnam's experience and success in curbing the spread of COVID-19 last year.

The pandemic has been causing more severe impact in 2021 than in 2020, findings of the survey showed.
Citizens showed great concern about their personal health (68 percent of the respondents) and their children's education (76 percent).
COVID-19 has had negative impact on employment and income, with 77 percent of respondents reported income reduction, especially for the poor, ethnic minorities, unskilled, non-agricultural self-employed labourers, those work in the service sector and those living in longer lockdown periods.
The survey also reflects citizens' preference and expectation. Despite significant economic impacts, most respondents clearly prioritised health over economy. As many as 83 percent of the respondents agreed that "The government's highest priority should be saving as many lives as possible, even if it means the economy will sustain more damage and recover slowly".
Wiesen said that the year 2022 is coming with unforeseen challenges ahead and the pandemic still remains and surges in many parts of the world.
However, with the fast and impressive delivery of COVID-19 vaccination in Vietnam in recent months, together with citizens' support for mask mandates and the Government's agile responses, she believes that Vietnam is well positioned to overcome the pandemic challenges and to recover soon.
"The Vietnamese experience has demonstrated to the world that public trust and confidence underpin success in government responses," Wiesen said./.
Q.Hoa t.h / VNA