Vietnam's action month for gender equality, gender-based violence prevention launched
The Ministry of Labour, Invalids and Social Affairs (MoLISA) together with UN agencies in Vietnam on November 12 launched the national action month for gender quality and gender-based violence prevention and response, which will take place from November 15 to December 15.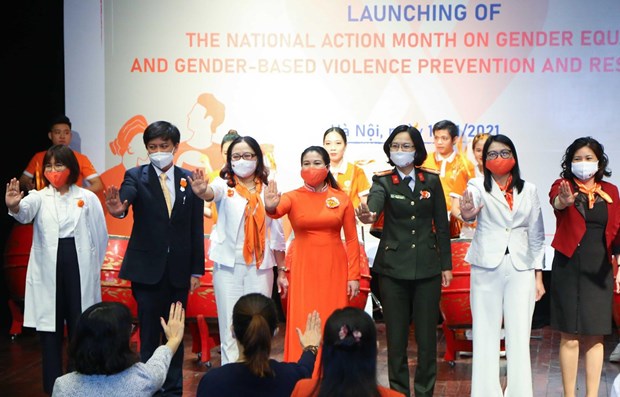 At the event (Photo: UN Women)
With its theme on ensuring social security, empowering and creating opportunities for women and girls to achieve gender equality, and eliminating violence against women and girls, the action month once again affirms Vietnam's priorities and commitments in promoting practical progress in the matter.

In the past two years, the COVID-19 pandemic has caused a spike in inequality, with women and girls bearing more disadvantages. That is why the group, particularly pregnant women and children orphaned due to the pandemic, has been prioritised with higher aid in Vietnam's support policies targeting people impacted by COVID-19.

Speaking at the launching ceremony, Deputy Minister of MoLISA Nguyen Thi Ha stressed that, in order to address gender inequality in Vietnam, in addition to policies and programmes to ensure social security, long-term communications efforts should be carried out more regularly and effectively to change gender bias, which is quite common in all aspects of social life.

"There would be no gender equality without the participation of men in domestic work and without an end to violence against women and girls," the deputy minister said.
 
Kidong Park, acting UN Resident Coordinator in Vietnam. (Photo: UN Women)

Kidong Park, acting UN Resident Coordinator in Vietnam, affirmed the UN is committed to continuing to assist Vietnam in promoting gender equality, and eradicating discrimination and gender-based violence toward the nation's realisation of the UN's sustainable development goals.

Park noted that, to tackle the roots of these issues, apart from changing social norms through building a culture of respect and equality for all genders in all contexts, including at home, at work, at school, and in the cyberspace, there is a need for a strong political commitment that manifests in the making of comprehensive laws and policies./.
Q.Hoa t.h / VNA